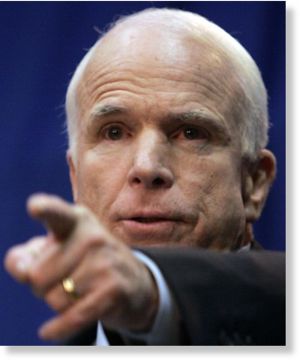 Sen. John McCain and other Republican politicians have claimed that there was "substantial evidence" that illegal immigrants were partly responsible for wildfires blazing across the state.
Fire officials said three major blazes in Arizona were started by humans, but they don't know any more details.
Activists swiftly jumped on Mr McCain's statement as "scapegoating," saying that state leaders were merely deflecting attention away from wildfire response.
The debated raged as people returned to homes that had been evacuated near the US-Mexico border. One day earlier the so-called Monument fire swept off a mountain into the outskirts of Sierra Vista, forcing about 3,000 residents of 1,700 homes to flee.
The evacuations brought the total to about 10,000 people from 4,300 homes forced out by the blaze. The fire has burned more than 40 square miles since it started about a week ago and had destroyed 44 homes.
Meanwhile, in the central part of the state along the New Mexico border, the largest blaze in state history has charred an area five times that size.