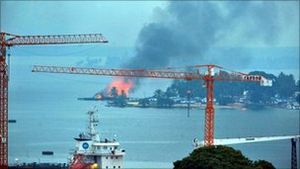 Up to 1,000 civilians have reportedly been massacred in the town of Duékoué in the West African country of Ivory Coast. This is the biggest loss of life in the former French colony since the disputed presidential election in November 2010.
There has been a standoff between the two rival presidential candidates since the election. The stalemate has now descended into civil war, as Alassane Ouattara, who is backed by France, the United States and international bodies, tries to oust the incumbent Laurent Gbagbo.
Ouattara's forces have seized most of the country, including the political capital, Yamassoukro, and the main port, San Pedro. They are now fighting to gain control of the commercial capital, Abidjan. Gbagbo retains the support of his 2,500-strong presidential guard, an unknown number of mercenaries and the Patriotic Youth movement. Many elements in the army have shifted their allegiance to Ouattara, following a United Nations Security Council resolution on March 30.
France and Nigeria sponsored the resolution that called on all state officials to recognise Ouattara. This was the signal for the beginning of Ouattara's military assault on Gbagbo's forces.