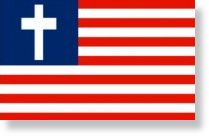 In difficult times, nations sometimes embrace extreme solutions. In 1494 Florence became a Christian Republic and Savonarola commenced his inquisition. Now America is in turmoil and Republicans offer a radical vision -- Michele Bachmann and Rick Perry. Is the US sliding towards Theocracy?
In 1494, Florence, Italy, was in economic and social turmoil. Catholic Priest Girolamo Savonarola declared Florence a Christian Republic and formed a Theocracy. Claiming to receive direction from God, Savonarola preached about the Last Days, and sparked a moral "purification" campaign. Homosexuals and liberal thinkers were killed, thousands of books were burned, and gangs ravaged Florence looking for indications of moral laxity, resulting in the notorious
Bonfire of the Vanities
.
In 2011, America is in economic and social turmoil and Republicans offer the solution of Theocracy. It's been tried here before. The Massachusetts Bay Colony was a Puritan Theocracy -- in 1660 Quaker Mary Dyer was hanged on Boston Common for advocating her religion. Until the nineteenth century, several states had official Christian churches. Nonetheless, the separation of church and state seems a solid legal principle -- "free exercise" of religion is in the First Amendment of the US Constitution (the notion of "separation" came from an 1802 Thomas Jefferson letter).