President Bashar al-Assad defied calls on Wednesday to lift a decades-old emergency law and said Syria was the target of a foreign conspiracy to stir up protests in which more than 60 people have been killed.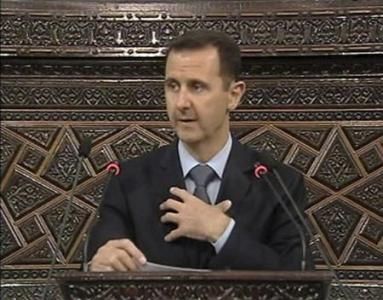 Speaking in public for the first time since the start of the unprecedented demonstrations, inspired by uprisings across the Arab world, Assad said he supported reform but offered no new commitment to change Syria's rigid, one-party political system.
"Implementing reforms is not a fad. When it just a reflection of a wave that the region is living, it is destructive," Assad, making clear he would not concede to pressure from mass protests which toppled other Arab leaders.
Ending emergency law, the main tool for suppressing dissent since it was imposed after the 1963 coup that elevated Assad's Baath Party to power, has been a central demand of protesters.
They also want political prisoners freed, and to know the fate of tens of thousands who disappeared in the 1980s.