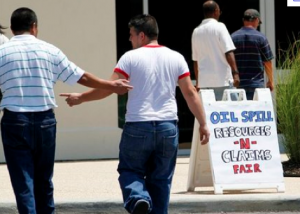 The
deadline for submitting claims
to the $20 billion BP oil spill compensation fund is midnight Tuesday. The wrangling over payouts will go on, perhaps for years. Yet the administrator of the fund, Kenneth Feinberg,
stubbornly refuses
to say how much he's being paid by the oil company, eroding the trust of frustrated claimants and the public.
If BP had funneled the $20 billion through government, which hired Feinberg to administer it, his pay would have been public from day one. BP was allowed to skip the government intermediary, but BP didn't hire Feinberg - President
Obama appointed him
, straight out of a real public job as White House overseer of executive pay at bailed-out companies.
Obama said as Feinberg took the job: "I'm confident he will assure that claims are administered as quickly, as fairly and as transparently as possible."