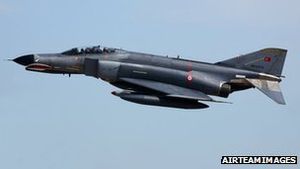 Turkey calls Nato meeting on warplane downed by Syria Syria said it engaged the aircraft in its airspace "according to the laws that govern such situations"
Turkey has called a meeting of Nato member states to discuss its response to the shooting down of one of its warplanes by Syrian forces on Friday.
Ankara has invoked Article 4 of Nato's charter, under which consultations can be requested when an ally feels their security is threatened, officials say.
Earlier, Turkey's foreign minister said the F-4 Phantom was in international airspace when it was shot down.
Syria has insisted the jet was engaged while it was inside its airspace.
It has also said no act of hostility was intended, noting that as soon as the military discovered the "unidentified" aircraft was Turkish its navy joined efforts to rescue the two crew members.
The Turkish foreign ministry said it knew the coordinates of the jet, which was in Syrian territorial waters at a depth of 1,300m (4,265ft), but has not yet found it.
The coast guard is still searching for the crew in the Mediterranean Sea, though hopes are fading of them being found alive.