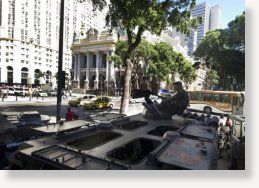 President Barack Obama has cancelled a public speech he was scheduled to deliver Sunday in a Rio square during his upcoming visit to Brazil, the US embassy in Brasilia said.
The speech in the historic plaza known as Cinelandia, in the heart of Rio de Janeiro, "is cancelled," an embassy spokeswoman told AFP.
Obama instead will deliver remarks at Rio's Municipal Theatre, the official said, without specifying whether it would be open to the public or exclusively for invited guests.
No explanation for the change of venue was given by the embassy. Brazilian authorities have laid out a heavy security presence for Obama's two-day visit to South America's largest nation, and police in Rio had closed numerous streets from midnight Thursday in preparation.
On Thursday, members of an advance US security team were seen inspecting the surroundings of Cinelandia, where anti-US banners could be seen hanging from a road-side fence.