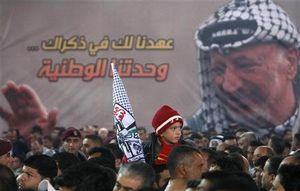 Traces of the poisonous element polonium have been found in the belongings of late Palestinian President Yasser Arafat, a Swiss institute said on Wednesday, and a television report said his widow had demanded his body be exhumed for further tests.
Arafat died at a hospital in France in 2004, after a sudden illness which baffled doctors. Many Palestinians have long suspected he was poisoned.
Darcy Christen, spokesman for the Institut de Radiophysique in Lausanne, Switzerland, told Reuters on Tuesday it had found "surprisingly" high levels of polonium-210 in Arafat's belongings.
But he stressed that clinical symptoms described in Arafat's medical reports were not consistent with polonium-210 and that conclusions could not be drawn as to whether the Palestinian leader was poisoned or not.
The Qatar-based Al Jazeera satellite channel said the institute had tested Arafat's personal effects, given them by his widow.