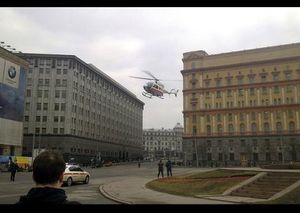 Two female suicide bombers killed at least 38 people in attacks on downtown Moscow subway stations yesterday, including one near the headquarters of the successor to the Soviet-era KGB, in the deadliest terrorist assault on the Russian capital in six years.
Comment: Wow, the investigation wrapped up within hours: two female suicide bombers did it! That would certainly jog Russians' memories of the Beslan massacre where female suicide bombers were supposedly present.
The women belonged to groups linked to Russia's mostly Muslim North Caucasus region, which includes Chechnya, Federal Security Service Director Alexander Bortnikov told President Dmitry Medvedev at the Kremlin.
No one has claimed responsibility.
International condemnation was led by President Barack Obama, who telephoned Medvedev to pass on his condolences and offer help. Group of Eight foreign ministers condemned the attacks, issuing a statement ahead of a meeting in Gatineau, Quebec, saying they would continue to "collaborate to thwart and constrain terrorists."