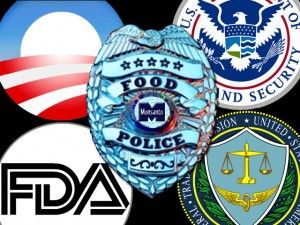 Under the guise of protecting Americans from food-borne illnesses, Congress has passed the S510 Food Safety Act,
granting unlimited power to the FDA to oversee the processing of food from farm to table
. The FDA has led the public to believe over a number of years that we desperately need government protection from food-borne illnesses. As a result of this manipulation, the S510 Food Safety has been passed without opposition. Ironically, the regulatory actions made possible by this bill will only promote the type of farming that produces food borne illnesses.
The
S510 Food Safety Act
will regulate the entire process of food production from every source in the United States. Farms must submit to government inspections and have safety documentation on record for 2 years. This documentation must be made promptly available upon oral or written request by an FDA agent. Farms are responsible for the fees associated with their own inspections. The FDA will also oversee food transportation within the United States; food imported from other countries will not be regulated but must simply carry a guarantee of safety by the exporting country. This imbalance in addition to the
bill-related costs imposed on farmers will cause prices of locally produced food to increase exponentially
.