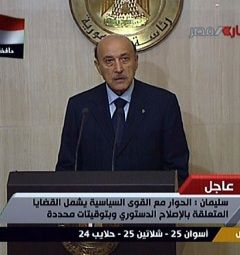 Washington - The man named by President Hosni Mubarak as his first ever deputy, Egyptian spy chief
Omar Suleiman, reportedly orchestrated the brutal interrogation of terror suspects abducted by the CIA in a secret program condemned by [human] rights groups.
His role in the controversial "war on terror" illustrates the ties that bind the United States and the Egyptian regime, as an unprecedented wave of protests against Mubarak's rule presents Washington with a difficult dilemma.
With Mubarak in jeopardy, Suleiman was anointed vice president last week and is now offering wide ranging talks with the opposition in a bid to defuse the crisis.
Suleiman is a sophisticated operator who carried out sensitive truce negotiations with Israel and the Palestinians as well as talks among rival Palestinian factions, winning the praise of American diplomats.