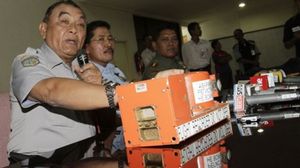 Indonesian villagers have found the Flight Data Recorder (FDR) from a Russian Sukhoi Superjet 100 passenger plane that Moscow claims was downed in southwestern Indonesia earlier in May by US "industrial sabotage," killing all 45 people on board.
The Indonesian National Search and Rescue Agency chief, Vice Marshal Daryatmo said on Thursday that the FDR, which logged data such as the jet's altitude, speed, and route, was found in good condition by nine villagers in a deep ravine near the crash site on Wednesday, The Associated Press reported.
The black box of the jet was found on May 15, six days after it slammed into the side of Mount Salak -- a dormant volcano in West Java.
Tatang Kurniadi, the head of Indonesia's National Commission on Safety Transportation, said that Indonesian and Russian investigators are analyzing both the black box and the FDR to establish the cause of the incident.