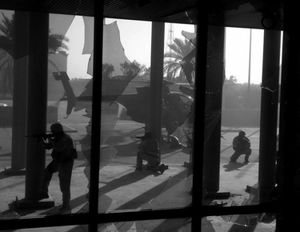 Mexico's bloody drug wars could mean new opportunities for private military companies like XE Services, better known as Blackwater, which became infamous in Iraq. Latin America provides such firms with both quality recruits and new business opportunities.
Mexico City -- The Iraqi resistance nicknamed him "Al-Shaitan" (the devil) and put a hefty bounty on his head. In the United States, he has been decorated as a hero. Newspapers there call him the "deadliest sniper in U.S. history." During his various missions as a Navy SEAL he officially killed 150 people. The Texan himself counts his kills at 255.
These days, however, 37-year-old Chris Kyle is too busy running his own business to add to his "legendary" kill count. In 2009, after completing his military service - with full honors - he founded Craft International, a company that offers private military and security services and specializes in training sharpshooters. The company forms part of a new trend in military outsourcing, a business model that has quickly spread across the globe, including into Latin America, where modern mercenaries are being put to work in everything from mining to coca eradication.
Craft International is by no means the first such for-profit paramilitary venture. In 1997, another former SEAL, Erik Prince, used his generous inheritence to set up a large private facility specialized in training police and soldiers. Prince, whose wealthy family has close ties to the Republican Party, called his operation Blackwater and staffed the new company with a long list of experienced and skilled trainers.