Lech Kaczynski, Poland's president, has signed the Lisbon treaty, leaving the Czech Republic the only country yet to ratify the controversial European Union reform plan.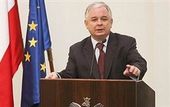 Flanked by José Manuel Barroso, the head of the European commission, and the Polish president of the European parliament, Jerzy Buzek, Mr Kaczynski put his signature to the treaty in Warsaw.
"The fact that the Irish people changed their minds meant the revival of the treaty, and there are no longer any obstacles to its ratification," said Mr Kaczynski in a short speech, adding that it was a "historic" day for both Poland and the European Union.