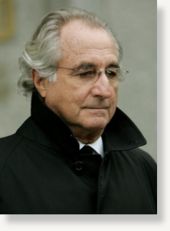 Bernard Madoff, in a prison interview Tuesday, told
The New York Times
his family knew nothing of his schemes but the banks he dealt with "had to know." The interview was Madoff's first since he was charged with running a multi-billion-dollar Ponzi scheme in December 2008.
The Times
said he spent 2 hours with a reporter in a visitor's room at the prison in Butner, N.C.
Madoff said he did not realize how the tumbling of his financial house of cards would destroy his family. His son, Mark, hanged himself in December, and neither Mark Madoff nor Bernard Madoff's surviving son had spoken to either of their parents since their father's arrest. While the whole family worked for Bernard Madoff's company, he said Ruth Madoff and his sons did not realize what he was up to. But he said the funds that steered their clients' money to him and the banks and hedge funds had information from regulatory filings and other sources to figure it out.