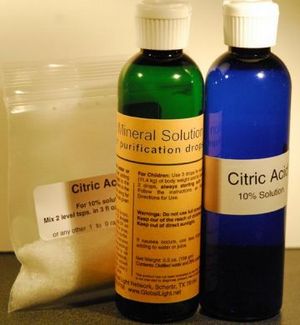 Product contains industrial strength bleach
The U.S. Food and Drug Administration is warning consumers not to take Miracle Mineral Solution, an oral liquid solution also known as "Miracle Mineral Supplement" or "MMS." The product, when used as directed, produces an industrial bleach that can cause serious harm to health.
The FDA has received several reports of health injuries from consumers using this product, including severe nausea, vomiting, and life-threatening low blood pressure from dehydration.
Consumers who have MMS should stop using it immediately and throw it away.
MMS is distributed on Internet sites and online auctions by multiple independent distributors. Although the products share the MMS name, the look of the labeling may vary.
The product instructs consumers to mix the 28 percent sodium chlorite solution with an acid such as citrus juice. This mixture produces chlorine dioxide, a potent bleach used for stripping textiles and industrial water treatment. High oral doses of this bleach, such as those recommended in the labeling, can cause nausea, vomiting, diarrhea, and symptoms of severe dehydration.