A couple from Buffalo found a gigantic 35-foot section of a petrified tree which is part of a
buried 60-million-year-old prehistoric forest of metasequoia, a type of redwood
that thrived in Wyoming and could grow as tall as 160 feet.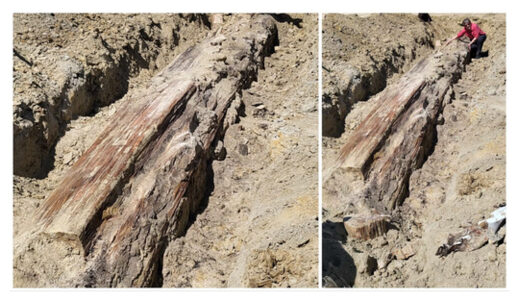 Jeanne Peterson and her husband, Robert Suchor, weren't expecting any tree problems when they started building an RV park outside Buffalo, Wyoming. There were no trees on the property — or so they thought.
Turns out there were some huge trees, they just weren't growing up from the ground. The couple instead found a 60 million-year-old petrified forest of some of the most giant trees that ever lived in Wyoming.
When they started building their home, Peterson and her husband found pieces of petrified wood and roots on the property, but nothing large enough to cause concern. But as they dug further, they found a forest.
"We started to find trees sticking out of the side of the hill," she told Cowboy State Daily. "Multiple trees. There's petrified wood everywhere around us."
When large earth movers were brought in to excavate infrastructure for an RV campground, Peterson had a hunch they would find something much larger. It was branching out at their feet.
"On the surface, we could see branches, which is just crazy. You could see where it branched out on both sides," she said.
Now, a 35-foot-long section of a prehistoric tree has been exposed, its trunk well over a foot in diameter. Another section of indeterminate length is still buried.
The tree is fully fossilized, but the texture of its bark is clearly visible. It's an artifact from a prehistoric age when Wyoming was warmer, wetter and covered with towering trees like these.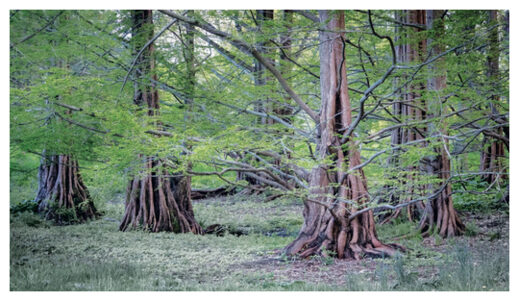 Metasequoia Marshland
Peterman hasn't had any paleobotanists look at the tree, but she has an idea what it might be. The property is adjacent to the Dry Creek Petrified Tree Environmental Education Area on BLM land only 2 miles away.
The petrified trees at Dry Creek have been identified as metasequoias, or dawn redwoods. There are no living metasequoias in Wyoming today, but they were widespread 60 million years ago during the Eocene Period.
In the Eocene, Wyoming's climate was similar to the coastal regions of modern-day Florida and Louisiana. In this warm, wet environment, metasequoias thrived and could grow to their full height of over 160 feet.
Wyoming is well known for its spectacular Eocene rocks and fossils. The fossils found and preserved at Fossil Butte National Monument outside Kemmerer are also from the Eocene.
Based on their location and the tree's overall look, Peterson thinks they've uncovered a remarkably well-preserved metasequoia. It's certainly large enough to be one.
"This whole area is metasequoia," she said.
Several unexplained fossils also have turned up, like leaves as big as Peterson's hands. They aren't from a metasequoia, but resemble modern-day magnolias, which also thrived in Wyoming during the Eocene.
Missing The Forest For The Trees
Peterson thinks it's amazing to find an intact 60 million-year-old metasequoia forest, but that's not what she had in mind for the property. She's still unsure how to care for her massive metasequoia, but now her entire project has been configured to accommodate the tree.
"Our focus is building this RV campground," she said. "We've moved our water lines to accommodate this tree, but it's still uncovered."
While massive, the fossilized tree is extremely fragile. If they attempt to move it without the proper precautions, the 35-foot trunk would likely shatter into a 10,000-piece jigsaw puzzle.
When Peterson posted a photo of her discovery to social media, it got more than 13,000 reactions and hundreds of comments with suggestions on how to care for the tree, and from some who wanted to acquire it.
"A few people said I should sell it because it's probably worth enough money for us to pay off our RV park," she said.
Peterson wants to preserve and display the tree at the finished RV campground, so long as it remains intact and isn't torn apart by visitors looking for a souvenir piece of petrified wood.
"We're trying to figure out how we can move it and get it above ground so we can display it," she said. "We're not quite sure how to do that, but we'll figure it out soon."
Meanwhile, construction on the RV campground continues. Peterson said the digging is almost, but not entirely, done. That means there could be more 60 million-year-old metasequoias waiting to be unearthed.
They're not out of the woods yet.
"We've got two septic tanks we are getting ready to dig, and they're really, really big," she said. "Who knows what we're going to come across?"