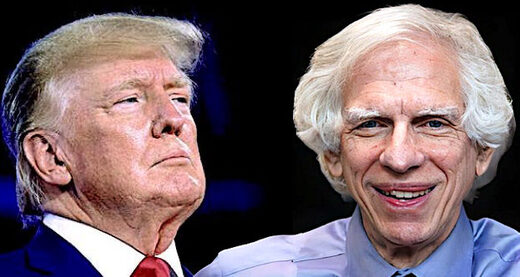 The judge overseeing former President Donald Trump's civil fraud case in New York has issued a gag order after Trump posted about the judge's clerk.
According to
reports
from within the courtroom, Judge Arthur Engoron said:
"Consider this statement a gag order forbidding all parties from posting, emailing, or speaking publicly about any of my staff.

"Personal attacks on members of my court staff are unacceptable, inappropriate, and I will not tolerate them in any circumstances."
Engoron said failure to abide by the gag order would result in "serious sanctions."
In a now-deleted social media post, Trump extended his attacks to Allison Greenfield, Engoron's clerk,
while in the courtroom with her. He posted a photograph of Greenfield with Senate Majority Leader Chuck Schumer (D-NY),
calling
for the case to be dismissed, according to
Newsweek.
Linking to Greenfield's Instagram account, he wrote:
"Schumer's girlfriend, Alison R. Greenfield, is running this case against me. How disgraceful! This case should be dismissed immediately!!"
Trump provided no evidence of a romantic connection between Greenfield and Schumer.
Trump's trial in New York began on Monday, centering on claims of "persistent and repeated" fraud involving himself, his eldest sons, and the Trump Organization's executives.
New York Attorney General Letitia James brought the $250 million lawsuit last September, alleging that the defendants committed repeated fraud by inflating assets on financial statements to get better terms on real estate loans and insurance policies.
The former president
accused
James of providing "false" and "misleading information" about his finances, calling her "a very corrupt and incompetent attorney general."
It is possible Engoron could issue a broader gag order in the future,
as the gag order issued Tuesday appears to be narrowly targeted at court staff.
Trump's comments about his numerous legal cases have sparked criticism from prosecutors involved in those cases and lawmakers. Several have filed requests to judges to impose a gag order on the former president.
Special counsel Jack Smith requested a gag order in the federal case involving the former president's efforts to overturn the 2020 election and the Jan. 6, 2021, riots at the U.S. Capitol. U.S. District Judge Tanya Chutkan
scheduled a hearing
for Oct. 16 to hear arguments on the gag order request.
Trump's legal counsel has pushed against gag order requests, stating it will prevent him from campaigning as a Republican presidential candidate for the 2024 election.