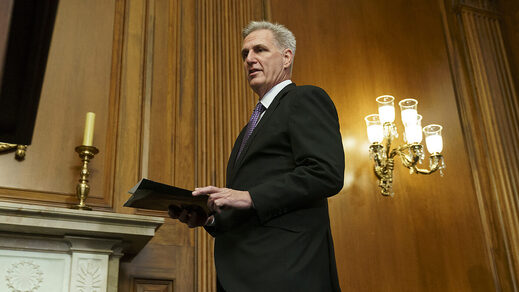 Speaker Kevin McCarthy (R-Calif.) on Sunday said he's committed to helping Ukraine, but that addressing the crisis at the border is a bigger priority.
"The priority for me is America and our borders," McCarthy said when pressed during an interview on CBS's
Face the Nation
with Margaret Brennan about Ukraine. "Now, I support being able to make sure Ukraine has the weapons that they need, but I firmly support the border first. So we've got to find a way that we can do this together."
Ukraine was a big loser in the stopgap measure approved by Congress in a dramatic weekend vote that prevented a government shutdown.
More than $6 billion in aid to the war-torn country had been included in a Senate stopgap measure, but McCarthy in a surprise Saturday move brought legislation to the floor that funded the government but did not include aid to Ukraine.
A number of House Republicans oppose aid to Ukraine, which has been a priority for Senate Minority Leader Mitch McConnell (R-Ky.) and other Republicans. The Senate GOP, itself divided over Ukraine, agreed to the McCarthy plan.
The back-and-forth is increasing pressure on Congress to do something for Ukraine now, though McCarthy on Sunday made it clear he's more focused on the border.
When pressed over the White House's argument that it does not have enough money for Ukraine, McCarthy said,
"They have more than $3 billion dollars right now to help them to get through it. If they have some challenge, we can sit down and we can talk about that."
"But the American border matters and more Americans are dying on our border than Americans are dying in Ukraine,"
McCarthy continued.
Asked if he is linking Ukraine aid to a border bill vote, McCarthy replied that the American border "matters."
"They're [Ukraine] not going to get some big package if the border is not secure," McCarthy said. "..We will work with people in need, but the one thing the White House has to understand they better be prepared to secure American border."
Miranda Nazzaro is a breaking news reporter for The Hill.