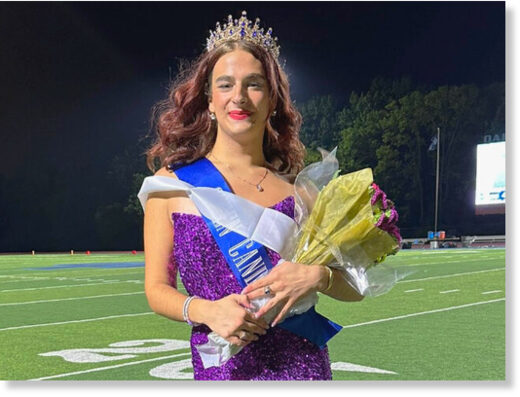 A biological male beat out several females for the title of "homecoming queen" at a Kansas City, Missouri, high school.
Oak Park High School in Kansas City, Missouri, crowned Tristan Young — a male who believes he is female — as homecoming queen. North Kansas City Schools posted pictures and the announcement on social media on Friday with the caption, "Congratulations to @Northmen_OPHS Homecoming Queen Tristan Young!"
Four photos show the male bending over in excitement, adorned with a crown and long purple dress. One of the photos shows the young man posing with the other "queen candidates" — all biological females who lost the crown to a man.
North Kansas City Schools also posted a congratulations on Instagram.
Similarly, Oak Park High School posted a picture of the young man standing solo, holding flowers, and wearing his crown.
"Our queen. Happy HoCo!" the school exclaimed.
Notably, only people whom the school mentions in the post can respond to it.
Tristan Young reportedly
expressed
his gratitude on Instagram, thanking his school and adding that he is "so overwhelmed with love and gratitude, and it is all your doing."
"i [
sic
] am forever thankful that you have chosen me to be your homecoming queen," he wrote.
"i [
sic
] have had a very difficult high school journey, but having the support of my friends, family and oak park has helped tremendously, i [
sic
] truly don't know where i [
sic
] would be without it," he added.
Oak Park is no stranger to crowning biological males as homecoming queens, as there was a similar occurrence in 2015 when the school crowned a male named Landon Patterson. At the time, Patterson's mother reportedly
said
, "He's a cute boy, but a beautiful girl."
Patterson now describes himself as a "showgirl" and the "Japanese Barbie of KC," posting tidbits of his transition story as well as provocative material on his social media page.
He commented on North Kansas City Schools' Instagram post celebrating Young's victory, writing, "So iconic! So deserving. "
Women's sports advocate and former National Collegiate Athletic Association (NCAA) swimming
star
Riley Gaines commented on Young's homecoming queen status on social media as well.
"So stunning & brave. Another reminder to all girls that men make the best women. I wonder if a female will win homecoming king or if it's understood that both of these spots are reserved for males. Who's to blame here?" she asked.