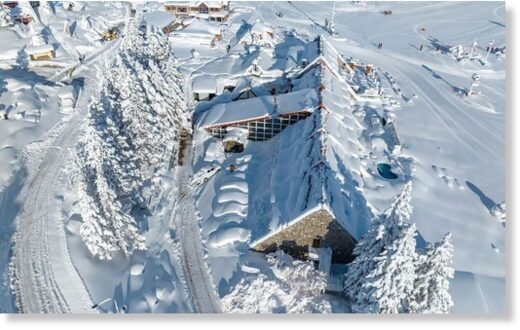 After getting over three feet in 24 hours, the latest storm total at Argentinian ski area Las Leñas has settled at approximately

10 feet of new snow

.
This is due to an atmospheric river this past week that has slammed the region of the Andes Mountains that Las Leñas is nestled in.
As a result, avalanche danger has reached an extreme level in and around Las Leñas. Two large inbounds avalanches were documented on Monday, occurring within a closed-off area of the resort.
The avalanches shown in the video above are large enough to bury, injure, and kill a person. Thankfully, the area they happened in was closed by ski patrol as a result of the ongoing storm and avalanche activity.
Residents of Las Leñas have been battling the snow to dig themselves out and even be able to leave their homes, as shown in the video below.
But that's not all; another monster storm is predicted to slam the Andes again this weekend, potentially bringing more absurd snowfall totals to ski areas like Las Leñas, Cerro Catedral, and others.
Brace yourselves, Patagonia—it's not over yet.