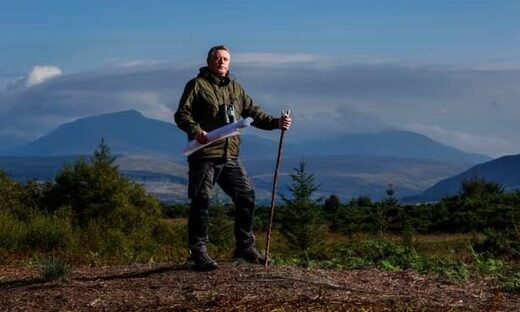 Below the rolling heath on the Isle of Arran's south-west coast, overlooked by harriers and the occasional peregrine, a monument to ancient ceremony is being uncovered.
In August, archaeologists working alongside local volunteers began their excavation at Drumadoon of what is almost certainly the only complete Neolithic cursus monument found in Britain.
These vast rectangular enclosures, which date back to between 4000 and 3000BC, are believed to have been built as spaces for procession, ceremony and gathering, deliberately separate from quotidian settlements or farming land.
Ranging in size from 200 metres to 10km long and bordered by ditches and banks, or sometimes large oak posts, they represent the biggest and earliest monumental constructions known to the isles.
The Arran cursus, approximately 1.1km in length, sits close to the stone circles of Machrie Moor, which was clearly a significant ceremonial site for ancient peoples, though it pre-dates their erection.
"It's
strategically located to take people from the coast up to the interior of the island and to showcase Macrae Moor,"
says Kenny Brophy, a senior lecturer in archaeology at Glasgow University and a cursus specialist.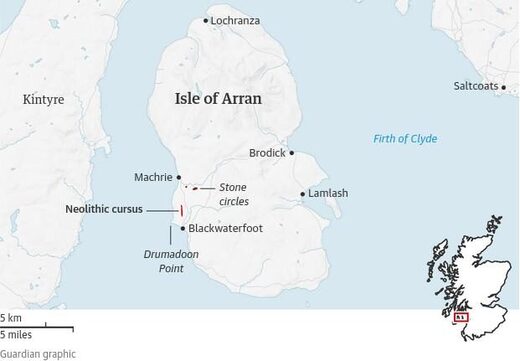 The people who built the cursus, who would have been some of the first farmers in Scotland
, may have used it to guide visitors but they were mainly created for spectacle.
They also
involved "a crazy amount of labour". Having only excavated about 1%
of the cursus bank using modern implements, Brophy says there is a remarkable story to be told of Neolithic people creating the site using sticks and bone tools.
He believes the cursus was either constructed over decades by a small local group, or by visiting teams of workers as part of a pilgrimage. There must have been a "phenomenal social glue" binding people to realise what was likely the vision of a religious or political leader of the time, he said.
The remains of the cursus,
unusually well-preserved thanks to its upland location away from intensive farming areas and the presence of peat bog
, were first discovered by a Lidar survey - a laser-light method used to examine the surface of the Earth - conducted by Historic Environment Scotland five years ago.
Nicki Whitehouse, professor of archaeological science at Glasgow University and another member of the core investigative team, says the initial discoveries revealed a highly unusual combination of ceremonial alongside farming landscape. "It's also part of a continuum that likely linked to the ritual site at Machrie Moor, so the whole Drumadoon landscape probably forms part of something much more extensive."
The dig was assisted by a dedicated team of Glasgow University archaeology students and archaeologists and academics from across the UK, but was also an opportunity for the local community to get involved, says Gavin MacGregor, the director of Archaeology Scotland.
"Having that number of people looking and thinking about the monument for the first time in potentially several thousand years created a real energy," he said.
"There's a phrase about 'the theatre of excavation' and bringing people together to congregate on the hillside, working through questions together, in a strange way has an affinity to those people making the sense of the world when the cursus was first constructed."