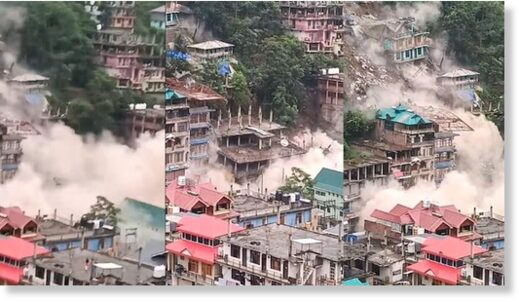 Scary visuals from Himachal Pradesh surfaced on social media on Thursday which showcased multiple buildings collapsing like a deck of cards in Anni town of Kullu district. Kullu buildings collapse took place due to a landslide which left a massive trail of dust and debris.
As per reports, emergency response teams, such as the National Disaster Response Force (NDRF) and the State Disaster Response Force (SDRF), have been deployed to rescue those who are feared trapped in the landslide. Now, the Kullu buildings collapse video is spreading like wildfire on social media with netizens shocked and slamming the government over unplanned infrastructure in the hilly areas.
In the viral Anni building collapse video, it can be seen multiple structures collapse one by one. Interestingly, all the buildings that collapsed were located on the edge of the hill which is considered prone to landslides.
The situation in Himachal Pradesh is expected to deteriorate further as the Indian Meteorological Department (IMD) has issued a red alert, warning of imminent heavy to very heavy rainfall in the hilly state for the next two days starting from Thursday. Reports suggest that a total of 7 buildings collapsed one by one. The threat is looming over 2 more buildings nearby. Notably, there were no casualties.
A newswire quoted Sub Divisional Magistrate (SDM), Anni, Naresh Verma who informed that the buildings housing shops, banks and other commercial establishments had developed cracks four-five days ago. Notably, the collapsed buildings were declared unsafe and vacated recently. The assessment of damage is being done and some other unsafe buildings along the National Highway 305 in Anni have also been vacated as a precautionary measure.
It is pertinent to mention here that Himachal Pradesh saw three major spells of heavy rains this Monsoon. The first was witnessed on July 9 and 10 led to large-scale destruction in the Mandi and Kullu districts. Shimla and Solan districts were hit during the second spell on August 14 and 15 and Shimla city reportedly suffered heavy damage in the third spell on Tuesday night.