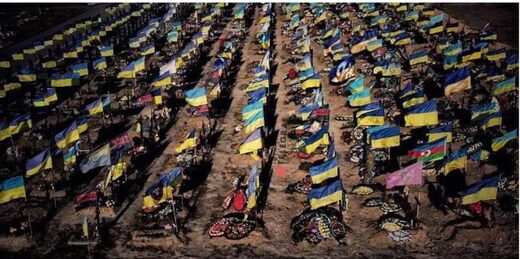 Judging by the obituaries published in open sources, in a year and a half of the war against Russia, the irretrievable losses of the Armed Forces of Ukraine exceeded three hundred thousand people.
Ruslan Tatarinov, the author of the telegram channel "Whisper of the Front", said this on the air of radio "Komsomolskaya Pravda"
, the correspondent of "PolitNavigator" reports.
He noted that
since June 1, 2022
, he has been counting the dead of the Armed Forces of Ukraine.
"I have many relatives and friends in Ukraine who live in different regions. And one of my relatives attended the funeral of seven servicemen of the Armed Forces of Ukraine in one day. Naturally, I became interested, and began to look for it all, "
Tatarinov said.
The publicist said that he was looking for obituaries by region, pages of village and city councils.
"Soldiers in Ukraine are dying - a lot. On average, about 400 obituaries are published per day in Ukraine. In a day. This is the average. The peak was last November, 1104.
This is the number of casualties issued in obituaries. The obituary is issued within a week. Maybe the body is already buried, and the information just came to the Internet. And so the peak value is 1100. Somehow I thought that there were 900 obituaries on "doomsday", but no.
They lose a lot of officers.
Two hundred and eighty-four thousand just a week ago was recorded
- Ukraine has already brought such a number of losses to the altar, laid down its men.
But
this is the amount that I just calculated, but how much is actually there. It seems to me that they have more than three hundred thousand irretrievable losses,"
he added.