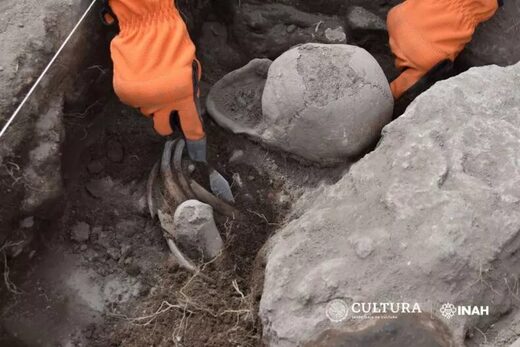 Skulls that may have been intentionally deformed into the shape of hearts have been discovered among human remains at an archaeological site in Mexico.
Researchers from Mexico's National Institute of Anthropology and History (INAH) made the unusual discovery at La Ferrería Archaeological Zone in Durango state — located in the lower northwest of the country.
During recent excavations at the site, archaeologists
discovered the skeletal remains of 16 individuals within the Casa Colorada architectural complex
.
An archaeologist excavating human remains at
La Ferrería Archaeological Zone
in Durango state, Mexico. Multiple human remains were found during recent work at the site, including deformed skulls in the shape of a heart.
The latest discovery, which was made under the floor of a plaza, includes
the remains of eight adults aged between around 30 and 40 at the time of death. The remaining skeletons were of children aged between 1 and 7 years old.
Most of the skeletons are fragmented, although three of the adults were found in a good state of preservation.
In the skulls of two of the skeletons, researchers observed cranial modifications, indicating that the heads had been intentionally deformed. The skull deformation in question produces a shape that
resembles a heart shape when looked at from certain angles
.
While this had never previously been reported at the site, the
artificial and intentional deformation of skulls is a practice that has been documented in various ancient cultures around the world, including those of Mesoamerica
, which covered much of Mexico and Central America. In a handful of locations around the world, it still occurs today.
Newsweek
contacted the INAH for comment via email on Wednesday.
The practice alters the normal development of the skull bones, producing a variety of distinctive shapes and forms.
The development of the skull is distorted by the application of force, which
can be achieved using various techniques, such as binding between pieces of wood. Typically, such techniques are applied during infancy because the skull is at its most pliable at this time
.
La Ferrería was inhabited by pre-Hispanic peoples between roughly 600-1350 A.D., according to INAH. The site contains several notable archaeological remains, including circular ritual spaces, pyramidal structures and a ballgame court.
The complex, which corresponds to the period 600-950 A.D., is located in the upper part of La Ferrería and covers an area of around 6,500 square feet.
It consists of nine rectangular structures around a square. Previous excavations have uncovered various burials within the buildings, leading researchers to
conclude that it was a space dedicated to the dead
.
The archaeological zone, which lies around 4 miles south of the City of Durango, is one of the most important monumental sites in the state.