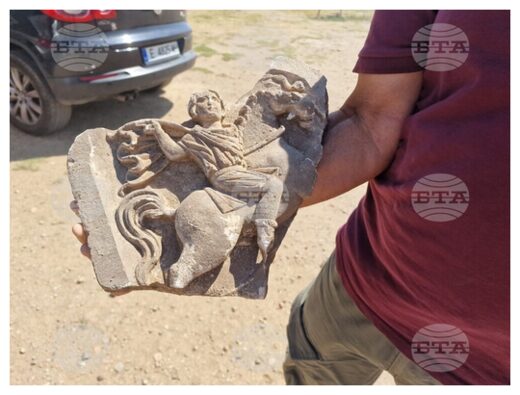 A stone votive relief depicting the Thracian horseman was discovered on Thursday in the ancient city of Heraclea Sintica.
The Thracian horseman, also known as the Thracian rider, is a recurring motif depicted in reliefs of the Hellenistic and Roman periods in the Balkans, mainly between the 3rd century BC to the 3rd century AD.
"This is the first time we're discovering such a well-made votive tablet," Assoc. Prof. Lyudmil Vagalinski, who is leading the excavations in the ancient city, said.
The Thracian horseman reliefs discovered so far were made of terracotta. The team of archaeologists is trying to find the remaining parts of the tablet, because its integrity is compromised.
Another piece of terracotta from the same period was found a few days ago, along with coins, bone needles and a votive tablet depicting Artemis, which shows that Thracians have gradually managed to increase their presence in the city, Vagalinski said.
The team of archeologists are completing the excavation of a Roman building, which was discovered earlier in May of this year. It served as a public building with two rooms and a very wide entrance, he explained.