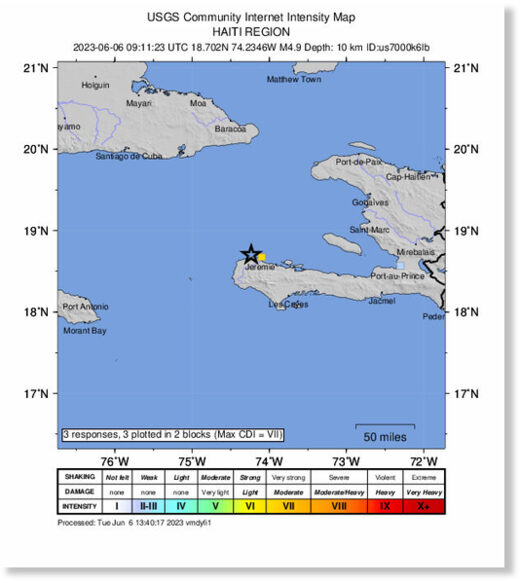 At least three people have been killed in an earthquake in the Haitian city of Jérémie, just days after floods left at least 42 dead.
The 4.9-magnitude quake struck in the early hours of the morning, the US Geological Survey said.
It came in the wake of torrential rains that have displaced more than 13,000.
Prime Minister Ariel Henry said his government and international partners were taking "urgent measures" to deal with the flooding.
The World Food Programme, an agency of the United Nations, said that it would start providing hot meals to the displaced.
Haitian authorities said the three people who died were crushed when their home collapsed. More than a dozen people have also been injured.
Jérémie is a coastal city in the southwestern Grand'Anse department. Two years ago, the region was also badly hit by an earthquake which killed more than 2,200 people.
Jérémie is relatively isolated from the rest of the country and transport links have been further disrupted by the rain.
The main road linking Jérémie with the capital Port-au-Prince passes through the city of Léogâne, where three rivers burst their banks in recent days.
Rescue operations are also being hampered by Haiti's ongoing problem with criminal gangs, which control many areas.
Léogâne resident Phania Cange, whose home was swept away in the floods, told Reuters that her five-year-old son died in the flooding. "I risked losing two (children), but God left the other one hanging in a tree."
She added: "I lost everything. It's good people who give me clothes to wear, I have no one to rely on."
Léogâne Mayor Ernson Henry said that residents in the city were "desperate".
"They have lost everything. The waters have ravaged their fields, washed away their livestock," he told the AFP news agency.