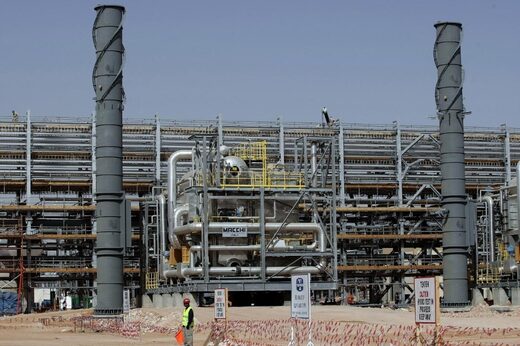 Saudi Arabia
announced on Sunday it would cut one million barrels of oil a day in July in a bid to boost sagging oil prices.
The latest cuts
would take Saudi oil production to the lowest level for several years
as the kingdom seeks to put a floor on prices in an attempt to fund an ambitious spending programme at home.
The kingdom's energy minister, Prince Abdulaziz bin Salman, Opec's de facto leader, said he "will do whatever is necessary to bring stability to this market" following a contentious OPEC+ meeting over the weekend.
Despite several attempts to reduce oil supply in the markets to keep prices steady over the last 10 months, the moves have largely come to naught.
A surprise cut to oil prices in April resulted in oil rallying to $90, but prices again fell to nearly $70 a barrel at one stage last week.
Following the voluntary production cut by the Saudis, oil jumped on Monday in the two international oil benchmarks with Brent trading at $76.98 per barrel while the US equivalent West Texas Intermediate rose to $72.66.
The cut, which initially will be only for July, could be extended
depending on market conditions, Prince Abdulaziz said. He described the cut as a "Saudi lollipop" or sweetener for the group, while other members were largely spared additional cuts this year.
Funding for Saudi projects
Saudi Arabia is the dominant producer in the OPEC+ oil cartel
giving it the flexibility to cut and boost oil supply at will.
OPEC+ has now dropped production on paper by 4.6 million barrels a day. But some countries can't produce their quotas, so
the actual reduction is around 3.5 million barrels per day, or over 3 percent of global supply
.
Saudi Arabia needs sustained high oil revenue to fund ambitious development projects aimed at diversifying the country's economy.
The International Monetary Fund estimates the kingdom needs $80.90 per barrel to meet its envisioned spending commitments, which include a planned $500bn futuristic desert city project called
Neom
.
While oil producers like Saudi Arabia need revenue to fund their state budgets, they also have to take into account the impact of higher prices on oil-consuming countries.
The result is that Saudi Arabia is potentially sacrificing further market share to stabilise the market.
Others in the OPEC+ group pledged to maintain the existing cuts until the end of 2024. Russia, another major oil producer in the group, made no commitments to curb its oil output.
The
United Arab Emirates
secured a higher production quota for next year.