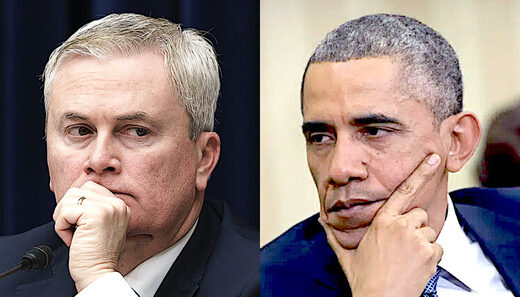 House Oversight Committee Chairman James Comer has made a claim that implicated former President Barack Obama in regard to allegations involving the family of his then-Vice President Joe Biden.
In an interview, Comer hinted that
Obama was aware of the Biden family's questionable international business deals that have been the focus of a years-long federal probe.
"I believe that it's because he knew what Joe Biden was doing the last year of his vice presidency. He knew his son (Hunter Biden) was no good, and he knew this was nothing but a political liability not just for our country, not just for the democrat party, but for Obama's legacy."
Comer also raised the possibility that Obama's awareness of the family's business dealings might have influenced his hesitation to fully endorse Biden's presidential campaign in 2020.
"So, I think that's why Obama didn't want Joe Biden to run for president. I think they knew about this. And remember, a lot of these coverups would have happened during the Obama administration with Obama appointees in these deep state bureaucracies."
He also suggested that Obama be questioned under oath about what he may have known back then.
"This would be a great question for Obama: Were you aware of what was going on with Joe Biden with respect to foreign policy and some of these ragtag countries around the world?"
Last week,
Comer said
he has received
credible allegations that Hunter Biden's legal team is threatening and intimidating potential witnesses.
"We've got witnesses that are scared to death to come forward. They fear for their lives."
Comer said pressure was being put on witnesses from his district, adding banks that complied with subpoenas issued by his Oversight and Accountability Committee are being pressured by high-ranking officials in the Democrat Party. He is deeply concerned about legal letters and implied threats that have been sent to witnesses by supporters of Hunter Biden.
According to reports,
cooperating banks have received threats, and political attack campaigns have been financed in the districts of some lawmakers who are investigating allegations of influence peddling by the Biden family.
As lawyers for Hunter Biden met with the DOJ to discuss the possibility of criminal charges,
the case has heated up.
Additionally, an IRS whistleblower received permission from the House Ways and Means Committee to testify to lawmakers about political interference in the criminal investigation of Hunter Biden's tax affairs.
Republicans are also in a stand-off with the FBI.
House Speaker Kevin McCarthy is once again warning FBI Director Christopher Wray he will be hit with a charge of contempt of Congress for failing to turn over a subpoenaed document regarding a probe into President Joe Biden's son, Hunter Biden.
During his appearance on
Fox & Friends
on Tuesday, McCarthy was engaged in a conversation about the ongoing debt ceiling negotiations when the discussion then shifted to an upcoming meeting between Wray and House Oversight Chairman James Comer.
Their meeting follows Comer's allegations that
the FBI has been uncooperative in complying with a subpoena requesting internal documents pertaining to the Biden family's business interactions with foreign entities.
"Today is the deadline. So let me not just tell you, let me tell Director Christopher Wray right here, right now. If he misses the deadline today, I'm prepared to move contempt charges in Congress against him. We have jurisdiction over this. He can send us that document.

"We have the right to look at that, Republicans and Democrats alike in that committee, and if he does not follow through with the law, we will move contempt charges against Christopher Wray and the FBI. They are not above the law."
The FBI has claimed that releasing the document could expose a confidential source and endanger other investigations.
According to remarks from other Republicans,
there are
allegations
that the internal unclassified FD-1023 form at the center of the controversy contains information outlining an alleged "arrangement" involving the exchange of money in return for policy decisions.
In a letter addressed to Wray last week, Comer stated that he is taking steps to narrow the scope of the subpoena for the document. As part of this effort,
he has included two additional terms, namely "June 30, 2020" and "five million,"
which may be referenced in the record.
The FBI relied on a claim of national security that critics find dubious.