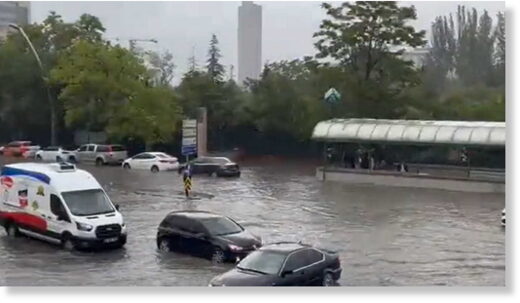 Following the warnings of Turkish State Meteorological Services, the capital Ankara was in the grip of the adverse weather conditions, as hail and downpours were effective in Keçiören district. Many streets, houses and workplaces were flooded.
Due to the rainfall, the football field in a neighborhood was flooded and some children playing soccer got stranded.
In his written statement, Turgut Altınok, the mayor of Keçiören, said that after the downpours and hail, the storm drains were blocked, and a major flood occurred in many regions throughout the district.
Altınok pointed out that it is the responsibility of the Ankara Municipality to evacuate the flood waters, claiming that the municipality teams are not properly executing their duty.
Meanwhile, the southern province of Antalya also surrendered to heavy rain in the evening hours of May 29. Pedestrians and drivers had a hard time in the rain that continued for about an hour. While some buildings were flooded, landslides occurred in some places.
Torrential downpours also affected the eastern province of Elazığ. Fire brigades rescued vehicles stuck on the road in the city where main streets turned into streams.
Due to the heavy downpour in the eastern province of Muş, a total of five vehicles, 35 houses and many barns were damaged, and a bridge collapsed due to the overflow of the stream in Kırköy.
Rainfalls in the eastern province of Kars flooded 20 workplaces and eight houses. Upon notification, rescue teams were dispatched to the flooded areas.
In the northern province of Samsun's Vezirköprü district, sudden hail and downpours caused streams to overflow. It was learned by local media that an empty parked vehicle was also washed away by flood waters.