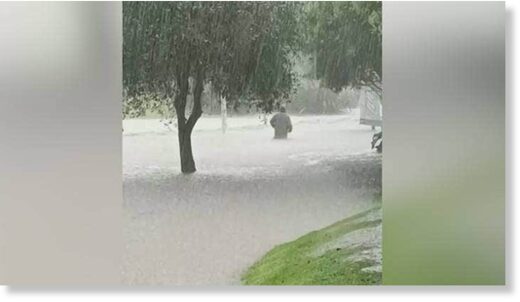 Waihī Beach residents were evacuated on Monday afternoon after "widespread flooding" that a local councillor said was the highest he'd ever seen.
Civil Defence duty manager Peter Watson said on Monday night that nine people who had been evacuated had been moved to self-contained units in a motorcamp near Bowentown.
Three were from elderly housing units which were flooded, the rest of the residents from the units had found somewhere to stay with family or friends, Watson said.
The flash flooding had done "quite a lot of damage" to the area's infrastructure including roads and the storm and wastewater network which were currently running on generator power. The most important thing was the that no one had been injured, he said.
"We've been quite lucky, we've had a very resilient community out there who is very prepared ... we've got a very good community response team and the RSA has been really awesome in helping as an initial evacuation staging area," Watson said.
There was no clear estimate on how many properties had been damaged, but building inspectors would be heading out to assess the damage on Tuesday morning, Watson said.
It was a "horrible scene", Western Bay of Plenty District councillor Allan Sole said, with areas inundated after a short but strong burst of rain.
A Fire and Emergency spokesperson said they received reports of rising floodwaters about 2pm on Monday. Police were called in to help with evacuations.
A block of pensioner flats on Beach Rd had been hit hard, Sole said, with floodwaters almost reaching windowsill height, and the RSA had been stood up as an evacuation centre.
Eleven of 19 elder housing units flooded and people had to be evacuated, the Western Bay of Plenty District Council said in a statement.
RSA Manager Mel Gearon told RNZ's Checkpoint at least 15 homes were in an uninhabitable state on Monday night.
"It was basically a torrential downpour, a huge amount of water that came through, a good flash flood there and that's just had nowhere to go, so it's pretty much filled up and flooded a few places."
Local residents and businesses were accommodating those who were evacuated, with some heading to private homes and others to a holiday park.
The flooding began subsiding on late Monday afternoon, Gearon said.
Sole, a local community patroller, had been out "making sure people were okay".
"The rain probably came over a period of a couple of hours...it really came down in a very heavy fall."