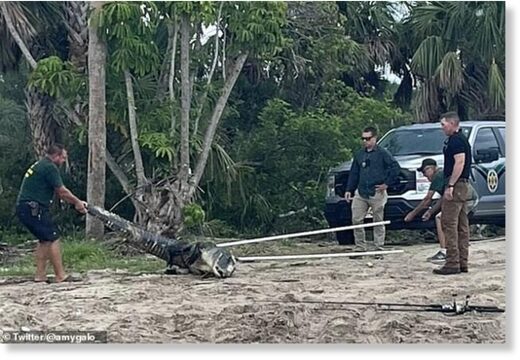 A 23-year-old had his arm amputated after he was attacked by a 10.5-foot-long alligator outside a bar in Port Charlotte, Florida, early on Sunday, authorities said.
The victim was bitten while standing outside Banditos Bar, which is situated next to a pond, per
The Daily Sun.
The local newspaper reported that emergency services were called to the bar at around 1:42 a.m., citing Charlotte County Fire and EMS spokesperson Todd Dunn.
The victim was taken by helicopter to a hospital in Fort Myers, where his arm was amputated, Dunn said, per the
Associated Press.
Manny Hidalgo was inside the bar when he heard shouting from outside. He told
The Daily Sun
that he grabbed his phone and used its flashlight to try to find the victim.
"He was yelling and swimming toward the shoreline," Hidalgo told The Daily Sun. "I ran and dragged him up onto the sand. I was scared to get close to the water because it was dark out."
It is unclear how the man ended up in the water.
Hidalgo said he was "scared," adding that the guy was "very lucky" to survive, per the local newspaper.
He added: "I know it's mating season, so I hope people are more aware of their surroundings."
Alligators, of which there are an estimated 1.3 million in Florida, can be more aggressive during mating season, which lasts from April to June.
Despite Florida's large alligator population, attacks on humans are relatively rare. The Florida Fish and Wildlife Conservation Commission said in December 2022 that the likelihood of a Florida resident being seriously injured during an unprovoked alligator incident in Florida is roughly one in 3.1 million.
Nevertheless, among other recent victims, an 85-year-old woman was killed after trying to rescue her dog from an alligator at a Florida retirement community in February 2023.
After the incident at Banditos Bar, a nuisance-alligator trapper successfully removed the alligator from the property, before it was humanely killed, the Florida Fish and Wildlife Conservation Commission said, according to CBS News.
The agency, which did not immediately respond to Insider's request for comment, is investigating the incident, per CBS News.
Source: Insider