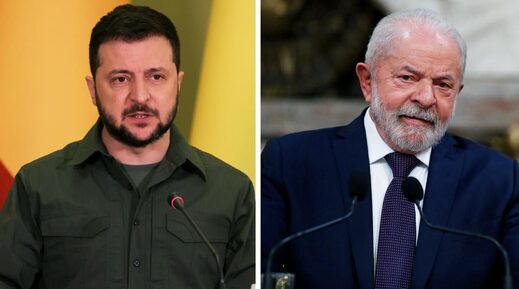 The Brazilian president said the Ukrainian leader was late for a planned event at the G7 summit in Japan
Brazilian President Luiz Inacio Lula da Silva has said his Ukrainian counterpart, Vladimir Zelensky, had failed to show up for a scheduled bilateral meeting at the G7 summit in Hiroshima, Japan.
"I had an interview, a bilateral one with [Zelensky] here in this room at 3:15 pm. We waited and received the information that he was late," the president, who is commonly referred to as Lula, said on Monday, as cited by Reuters.
He added that Zelensky "did not show up" because "clearly he had appointments and he couldn't come."
AFP cited Lula as saying that he was "upset" that the meeting fell through.
No face-to-face meeting with the Ukrainian leader was listed in Lula's pre-summit itinerary published by his office ahead of his trip to Japan. However, Bloomberg cited unnamed officials as saying on Saturday that
the Brazilian delegation felt pressured to arrange a meeting
between Lula and Zelensky.
Zelensky later told reporters that "everyone has their schedules, so we couldn't meet with the Brazilian president." The two leaders previously spoke over the phone in March.
Lula has condemned Russia's military operation in Ukraine, but refused to take part in the Western sanctions imposed on Moscow and declined to provide weapons to Kiev. He has insisted that the Russia-Ukraine conflict should be resolved through negotiations. "No solution will last if it is not based on dialogue. We need to work to create the space for negotiations," Lula said on Sunday.