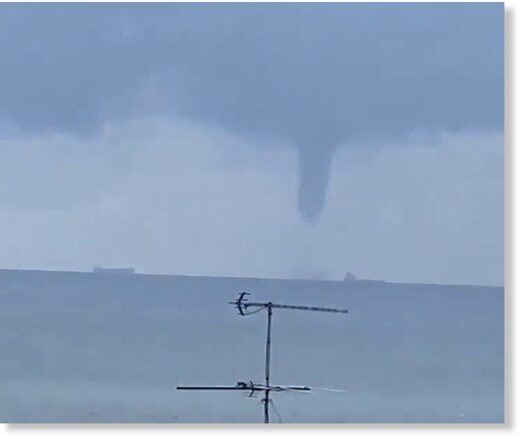 A huge tornado-like water has been spotted off the coast of Sydney, dwarfing two tankers seen sailing on the horizon.
The spout formed just off the coast near South Coogee in Sydney's eastern suburbs on Saturday as a storm moved closer to hitting the fringes of the city.
Water spouts form as heavy winds travel in opposing directions, causing the air to be drawn upwards in a spiralling column.
The rising air carries water vapour along with it into the sky where it can create showers and storms.
While mostly harmless, water spouts can cause damage if they move ashore, with one destroying a dozen homes in Lennox Heads in 2010.
One local captured a video of the water spout, saying: 'Look at this'.
'A tornado water spout, looks like the boat behind it is going to (get killed) by it but it's not, it's further away,' the local says.
Some of the larger water spouts have been measured with diameters as large as 100 metres and last for as long as an hour.
However, most spouts have an average lifespan of about five to 10 minutes and have a diameter of about 30 metres.
Water spouts are most common across Australia's east coast during autumn and winter as cold air from the land clashes against usually warmer air over the ocean.