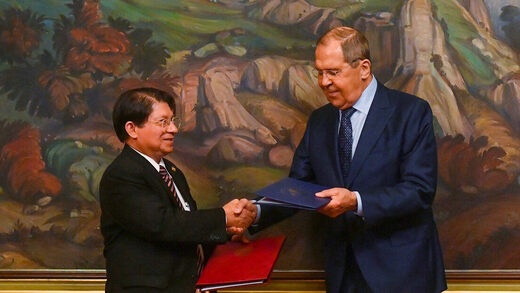 In a meeting with Russian chancellor Sergei Lavrov on Thursday, Nicaraguan Foreign Affairs Minister Denis Moncada ratified that his country recognizes the security threats that forced Russia to start the special military operation in Ukraine.
"Russia is a sovereign and independent country. As such, it has the right to live with dignity and fight any threats posed against its integrity,"
Moncada stated in Moscow.
The Nicaraguan chancellor stressed that
he will continue to support the Russian government's fight for world peace and stability. "The active and dynamic contribution of Russia, China, and Iran to international relations is creating a more equitable world order,"
he praised.
"Our countries will fight, resist, and win,"
he stressed while conveying to the Russian people a "cordial and fraternal greeting" from Nicaraguan President Daniel Ortega and Vice President Rosario Murillo.
"Without a doubt, today we have a good opportunity to address international and regional problems," Lavrov stated, adding his refusal to the United Nations Security Council's decision of not initiating an international investigation into the sabotage on the Nord Stream pipelines.
"Nicaragua and Russia will promote justice in international affairs as strategic partners that defend the principles of international law," Lavrov said, stressing that those responsible for sabotage will be held accountable.
After meeting Moncada, the Russian chancellor awarded a Friendship Order to Laureano Ortega, the special representative of the Sandinista government for relations with Russia, and Alba Torres, the Nicaraguan ambassador in Moscow.