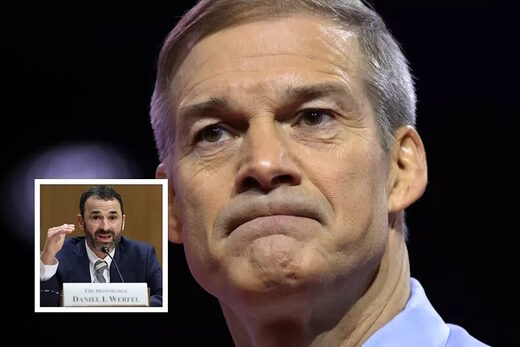 House Judiciary Chair Jim Jordan has demanded that the Internal Revenue Service (IRS) turn over copies of documents related to its search of journalist Matt Taibbi's home on the day he testified before the weaponization subcommittee.
Jordan, a Republican from Ohio, has been leading the investigation into the
alleged "weaponization"
of the federal government
,
based on concerns from conservatives that some agencies have had a bias against them under the Biden administration.
Despite GOP insistence, Democrats in Congress have frequently questioned the validity of the investigation and the quality of some
witnesses
that have been called to testify.
Taibbi is an independent journalist who collaborated with Twitter owner Elon Musk on the "Twitter Files," a project that claimed to reveal new information about prior Twitter leadership's attempt to suppress a story relating to Joe Biden's son, Hunter, in the lead-up to the 2020 election. Conservatives widely hailed the project as evidence of "Big Tech" bias against them.
Liberals and other critics argued that it merely revealed a standard process for vetting a potentially incendiary story. Twitter previously admitted to making a mistake by initially suppressing the report on the assumption that it was based on hacked materials, later reversing course and allowing the story to be shared.
Taibbi testified before the weaponization committee on March 9, the same day that the IRS searched his New Jersey home. Later, the agency requested copies of his 2018 and 2021 returns because of "concerns over identity theft." It has since told Taibbi that "there's no problem."
In a letter sent to Treasury Secretary Janet Yellen and IRS Commissioner Daniel Werfel, Jordan requested the provision of documents related to the search, claiming that there are concerns that it represented an attempt to "intimidate a witness before Congress."
The letter requests that the committee be given "all documents and communications" related to the IRS visit to Taibbi's home, those related to communications between the agency and the Treasury Department or "any other Executive Branch entity," and those received by a particular revenue officer regarding Taibbi's case. The letter also says that the request should be considered ongoing and apply to documents in the categories created after the request was sent.
"Please produce all documents and information as soon as possible but no later than 5:00 p.m. on April 10, 2023," the letter reads.
Jordan's request for the documents related to Taibbi's case came in the wake of a
Wall Street Journal
editorial that raised issues relating to the IRS search of his home on the day of his testimony. The
Journal
, a division of Dow Jones, is owned
by Rupert Murdoch
's News Corp.
The IRS has, so far, not publicly responded to the letter from Jordan.
Newsweek
reached out to its press office via email for comment.