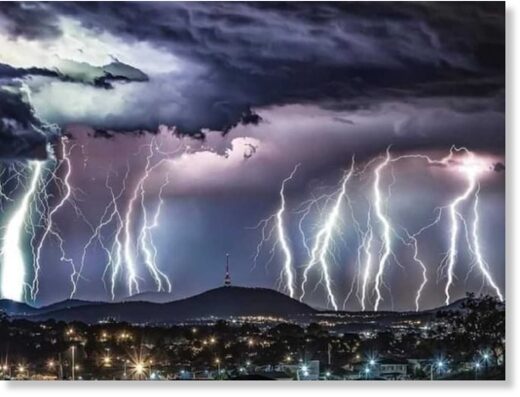 Parts of Western Australia received over 500,000 lightning strikes due to severe storms over the weekend with the weatherman predicting the conditions to continue with rainfall accompanied by thunderstorms.
The meteorological department on Wednesday issued a severe thunderstorm warning for the eastern ranges, which caused 60mm of rainfall overnight.
The multiple lightning strikes occurred within 200 kilometers of Perth and thunderstorms led to the heaviest rainfall in several months across parts of southwestern Australia.
The wet and cool weather system will be bringing in showers and storms across much of New South Wales and northeast Victoria with severe storms predicted until March 30.
Bickley, about 30km from Perth had received 21mm of rain on March 25, its wettest day in four months.
A large number of places recorded 25mm to 50mm of downpours.
A tropical low approaching the Pilbara coast will be bringing heavy showers and storms on Wednesday. Parts of Tasmania will be receiving isolated showers, Weatherzone forecasted.
On March 30, a trough in the west will be causing thundershowers in Western Australia and some parts of the northwest region will witness intense rainfall. An approaching front will brisk cooler winds and scattered showers to Victoria and Tasmania.