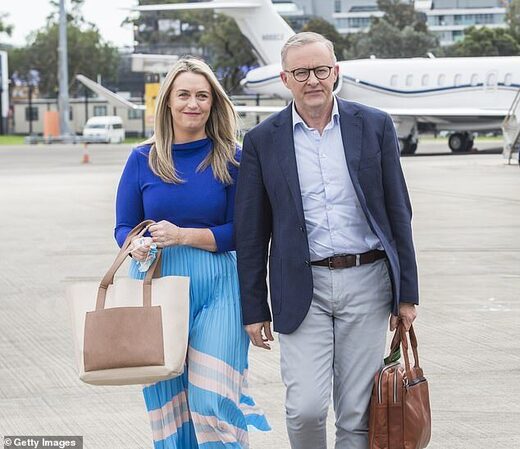 Australia is set to see its biggest-ever surge of immigrants with government figures revealing 650,000 migrants are predicted to arrive this financial year and next.
The sudden population boom is likely to put even greater pressure on the national housing crisis which has seen record rent rises as too many tenants compete for too few homes.
But it will also ease workforce shortages which have caused chronic job vacancies where employers have
struggled to find staff to fill positions, especially in healthcare, hospitality and tourism
.
The revised migration data comes after just 300,000 migrants touched down in the country during the three years of pandemic lockdowns and lockouts.
Treasury officials in 2019 predicted a total of 1.2million migrants would arrive in the country by the end of 2024, but that figure has now been revised down to 950,000.
At least 350,000 are predicted to settle in Australia this financial year with 300,000 more in the following 12 months.
The sudden surge in the population is
set to deliver a budget windfall to the government
with a boost in spending and taxes to help economic growth.
But it will add to
the deepening homes crisis, with housing supply unable to meet the needs of renters, while soaring interest rates and the high cost of living have curbed property sales
.
More than half of the expected migrants arrived in Australia as part of the post-Covid boom in
skilled workers, international students and working holiday-makers
.
In the first three months of this financial year,
from July to September 2022, a record 106,000 migrants arrived
in Australia, reports
The Australian
.
They were part of a wave of 304,000 immigrants arriving in the country in the year to September as borders reopened after Covid restrictions shut Australia down.
It was the highest population rise since March 2009, but is set to be overshadowed by the flood of migrants now predicted in the 18 months ahead.
Jim Chalmers has revealed net overseas migration this financial year is likely to be 350,000, a 50 per cent rise on what was expected in the October budget and January's annual population statement.
He said the sudden growth will be accounted for in the Albanese Government's second budget, set to be delivered in six weeks.
Treasury secretary Steven Kennedy told a Senate hearing last month temporary migration had recovered faster than expected.
'Net overseas migration numbers are being artificially boosted this year by the resumption of inward flows of international students and working holiday-makers,' Dr Kennedy said.
'Coupled with
broad softening in hiring demand, increases in net overseas migration should help to ease skill and labour ­shortages, particularly for the hospitality and retail sectors.'
In particular, the influx of migrants has fed concerns about Australia's housing shortage and limited rental market.
'Bigger is not better, it's just bigger,'
economist Chris Richardson said.
'It's good for the construction industry. We haven't been building enough homes.
'Covid pushed us into smaller households
but we definitely need more supply.'
Following 10 consecutive interest rate rises, National Australia Bank economists said
rent has been driven up by about 11 per cent in major cities
.
'This has contributed to
a sharp tightening in the rental market where vacancy rates have fallen to around or below 1 per cent in most cities,'
NAB said.
Dr Chalmers said a key focus of the upcoming budget will be cost-of-living relief with the migration surge acting as a key factor in the government's fiscal package.