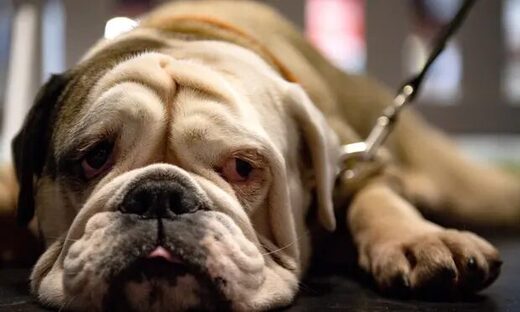 Pets could be subjected to gene editing under a new government act, the RSPCA has warned.
The animal charity has said that
the Genetic Technology (Precision Breeding) Act applies to all vertebrate animals, not only farmed animals, and that it could lead to cats and dogs being gene-edited to include extreme features
.
The law
allows the creation and marketing of "precision-bred" or genome-edited plants and vertebrate animals
in England. The government said it would allow farmers to grow crops that are drought- and disease-resistant, reduce the use of fertilisers and pesticides, and help breed animals that are protected from catching harmful diseases.

Comment: Except GMO plants have not been shown to have any of these qualities, moreover these mutant crops are linked to numerous diseases in both animals and humans that consume them. These inferior crops harm the soil they're in, the creatures that have contact with them, and they possess the ability to contaminate the heritage plants in neighbouring fields.


The UK environment secretary, Thérèse Coffey, described
the act, which received royal assent
on Thursday, as a "Brexit freedom", but the RSPCA said it could have dire consequences for animal welfare.

Comment: 'Royal ascent', and this is the king who owns an organic farm, and claims to be an environmentalist.


David Bowles, the head of campaigns and public affairs at the RSPCA, criticised what he described as an "ill-judged policy". He said the charity had tried to get the government to include an exemption for pets, but was "sadly ignored".
He added:
"Gene editing could be a huge step backwards for animals. We do not believe this act should include animals, whether they are farm, pet or wildlife. Invasive procedures are needed to create each line of gene-edited mammals, there is no history of use for this powerful technology, and

it can cause unintended changes to the genome, with unpredictable effects

. The RSPCA has serious animal welfare and ethical concerns about this."
Genome editing is a group of techniques that enable changes to an organism's DNA, and the animal charity warned that editing an animal's genome involved procedures that
could cause "pain, suffering, distress and lasting harm". Gene editing was previously subject to the strict rules and regulations that control genetically modified organisms (GMOs), but under this new law gene-edited animals and food will not be classed in England as GMOs and will not need to be labelled as such
.
There are concerns that a demand for cats and dogs with extreme appearances could cause breeders to use gene editing to create pets with these characteristics.
"We feel there is no justification whatsoever for non-farm animals to be covered by the [legislation]," Bowles said.
"Ongoing demands for dogs and cats with harmful physical characteristics and exaggerated conformational features, and relentless pressure on sporting animals, are already of deep concern, and
there has been no public consultation

on gene editing non-farm animals."

Comment: That's because the public would not support the bill.


The government has said it would take a "step-by-step" approach when releasing the regulatory framework that goes with the act. It said in a press release: "While there is great potential for increasing innovation, the government recognises that there is a need to safeguard animal welfare in the new regulatory framework. That is why we are taking a step-by-step approach,
enabling use of precision breeding technologies with plants first followed by animals later."

Comment: By this point there's enough evidence from other countries that permit GMOs, such as the US, that they should be banned outright.


But
the RSPCA does not think vertebrate animals should be in the act at all
, let alone non-farmed creatures such as pets.
Bowles continued: "By allowing the inclusion of all vertebrate animals within this [legislation], the UK government is opening a Pandora's box of what could be allowed in the future."
A Department for Environment, Food and Rural Affairs (Defra) spokesperson said: "We are clear that we will not compromise on animal welfare and we have no plans to introduce secondary legislation to cover precision-bred companion animals."