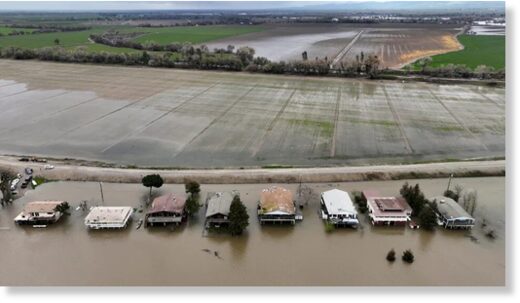 More than 135,000 California homes and businesses were without power Wednesday morning after another atmospheric river walloped the storm-fatigued state with heavy rain and hurricane-force winds.
The storm's ferocious winds downed trees and damaged power lines across California, where at some point Tuesday most of the state's population - more than 35 million people - were under some kind of weather alert, including a brief tornado warning in Ventura County.
Utility company Pacific Gas and Electric
said
the storm system "exceeded all expectations," damaging electric infrastructure and knocking out power to thousands. The company said its crews are working as quickly as possible to assess equipment damaged by the storm, but spokesperson Carina Corral
warned
that flooding, fallen trees and other obstacles can slow down restoration efforts.
In San Francisco, five people were injured - four of them critically - by falling trees at various locations across the city during the storm Tuesday afternoon, San Francisco Fire Department spokesperson Johnathan Baxter said.
The San Francisco International Airport reported a ground delay of more than four hours on average because of high winds, according to the
Federal Aviation Administration.
The storm brought hurricane-force winds to multiple areas Tuesday, including 102 mph winds at Magic Mountain Truck Trail, 83 mph at Palomar Mountain Lookout, both in southern California, and farther north, 74 mph winds in Oakland.
State transportation officials reported snow and windy conditions in the mountains of Southern California's Riverside and San Bernardino counties
, where officials had recommended residents maintain at least a two-week supply of food, water, medication and fuel ahead of the storm's arrival.
"Visibility is at a big 'nope' today," the state transportation department for the region
wrote
on Twitter. "Please consider travel when conditions are more favorable. If you must travel, be prepared and stay safe."
Many areas across southern California had already received more than 2 inches of rainfall by Tuesday afternoon, with more showers still to come Wednesday. "This will foster concerns for rapid runoff, flooding and mudslides given the already wet, saturated soil conditions," the
National Weather Service
said.
The worry was that heavy rain and snow could worsen conditions for communities still flooded from the previous atmospheric river that pummeled the state - and ended just days ago.
California has already seen at least 12 atmospheric rivers this winter season that ravaged communities, displaced residents and prompted emergency declarations as floodwater inundated neighborhoods, swelled rivers, damaged roads and sent mud and rocks sliding down hills.
(Read more
here
)