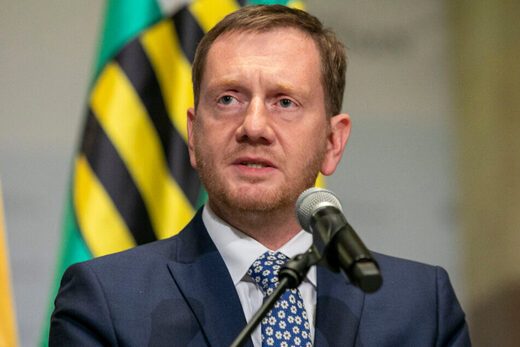 Saxony premier Michael Kretschmer said the sabotaged gas pipelines would be needed if Germany and Russia resume trade
Germany should repair the Nord Stream gas pipelines while it is still possible, the state premier of Saxony, Michael Kretschmer, has argued. The politician suggested that the pipelines, which were blown up last September, could be needed again in the event that Germany and Russia normalize trade relations under new leadership in Moscow.
"In energy policy, it's all about keeping options open," Kretschmer told Germany's
Focus
magazine in an interview published on Sunday.
"When Putin is gone, the pipeline could also be an opportunity for a successor to restore economic relations with us," the official added, predicting that this could happen in around five years' time.
According to the Saxony state leader, work should begin soon on repairing the conduits as they will soon be beyond saving.
Kretschmer also insisted that Germany would benefit from as many operational pipelines as possible, not least in terms of tackling CO2 emissions. Germany is now reliant on liquified natural gas (LNG), although according to the politician, this is expensive and causes just as much as pollution as domestic brown coal when taking into account its transportation. Meanwhile, power consumption is expected to rise in the country, Kretschmer noted.
Asked about a potential Polish backlash to any restoration of Nord Stream, given Warsaw's longstanding opposition to the project, Kretschmer said that the two EU member states should discuss the issue reasonably. However, he asserted that Germany is a sovereign nation which must pursue its own interests.
Regarding the Ukraine conflict, Kretschmer argued that Germany has placed "too much focus" on weapons deliveries to Kiev instead of producing a peace proposal. He claimed that the situation in Ukraine is getting "worse and worse" by the day, meaning that a ceasefire and peace talks are urgently needed.
The Saxony state premier argued that through its military aid for Ukraine, Germany is "now directly involved in this conflict."
"I felt that this is exactly what we should not have done in order to be more credible and active as a mediator and diplomatic actor," Kretschmer stated, claiming that "nearly 50%" of people in eastern Germany agree with him.