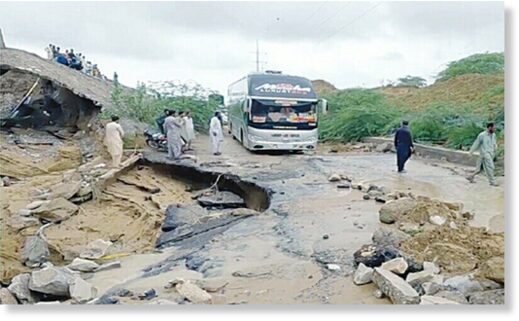 At least 10 people have been swept away in a flood in the Awaran and Zhob areas of Balochistan due to the heavy rainfall on Sunday, reported
Dawn
.
According to the disaster management officials, of those 10 people who died in the Balochistan flash floods, eight belonged to a family which was on its way to Kalat from Awaran in a vehicle. The eight family members included three women, two children and three men, as per multiple media reports.
The heavy rains started on Friday (night) in Khuzdar and Awaran districts which have caused floods in seasonal streams, as per a local news agency.
A tragic accident in Balochistan flood
Members of the Levies organisation and administrators have been running the operation to locate the bodies of the deceased from the Awaran area. Levies had found seven bodies which have taken to the local hospital, said Jummadad Khan, the deputy commissioner of Awaran, reported Dawn. The tragic accident occurred when the family from Kalat's Surab neighbourhood, was returning home. "Seven out of eight bodies have been sent by the administration via ambulances to their native town (Surab)," shared Jummadad Khan.
Apart from the 10, two other people have perished on their own at Zhob. Massive damage has been reported to several houses in the area as a result of the heavy rains.
The identities of the deceased who have been found so far are Azizullah, 38 years old, Munir Ahmed, 37years old, Ayesha Bibi, 40years old, Noorzadi, 18years old, Seema Bibi, 17 years old, Babiba Bibi, 9 years old, and Museer Ahmed, 7 years old. However, the search operation for Mohsin is underway. Further, the situation is under control after heavy downpours were experienced in multiple regions throughout Balochistan, including Zhob, Kalat, Nushki, Dalbandin, Ziarat, Harnai, Duki, Qila Saifullah, Chaman, Loralai, Awaran, Mashkey, Uthal, and Quetta, stated deputy commissioner of Zhob, Ramzan Palal.