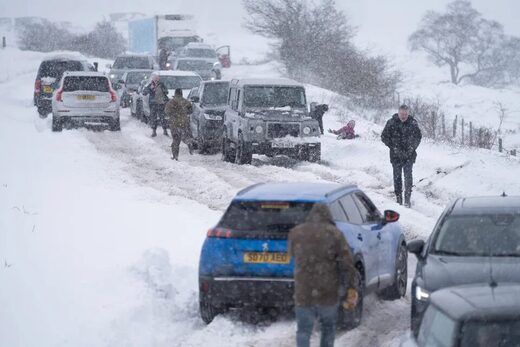 Up to 40cm of snow expected in Peak District and Pennines, with warning of 'exceptionally cold night' on Friday.
Snow and rain are expected to bring further travel disruption across large areas of Britain on Friday.
Three amber warnings for blizzard conditions with up to 40cm (15.7in) of snow were issued by the Met Office on Thursday and remain in place until Friday morning.
Widespread snow is expected across central England and Wales, following heavy snowfall which has already affected commuters on Thursday.
Flight delays were reported in the east Midlands, while travel by rail was hit by snow and ice, with issues expected to continue until Friday afternoon.
Snow showers are also expected in Scotland and could reach Northern Ireland and south-west England by the weekend.
The Met Office chief meteorologist Jason Kelly said: "With some strong winds accompanying these snow showers, blizzard conditions are likely for a time in northern England and Wales, as well as parts of Northern Ireland.
"Ice will be a continuing hazard for many in the forecast period, with very low overnight temperatures likely to exacerbate continued likely travel disruption."
The Met Office added that it would be an "exceptionally cold night" on Friday, with a clear and frosty start to Saturday for most.
In England, from Stoke-on-Trent to County Durham, the forecaster said significant
disruption to transport, power lines and phone network coverage was likely.
In Northern Ireland people were warned of
"atrocious driving conditions"
because of the wind and snow followed by icy conditions on Friday. In north Wales persistent snow and freezing rain could be hazardous to infrastructure and travel.
Wednesday night was the coldest of the year so far, with temperatures plummeting to -16C in Altnaharra, Scotland.
The Peak District and Pennines have the potential for as much as 40cm of snow into Friday morning, with remote communities at risk of being cut off.
The Met Office has issued three amber warnings for northern England, the Midlands, north Wales and Northern Ireland, where "significant disruption" to transport and power supplies is expected. An amber warning means there is a likelihood that severe weather will disrupt people's plans, with a possibility of travel delays, road and rail closures, and power cuts. It also brings a potential risk to life and property.
A yellow warning for snow and ice is in place in northern Scotland, where temperatures were as low as -4C in the early hours of Thursday. A further yellow warning is in place for snow across the central belt, Dumfries and Galloway and the Scottish Borders - with an additional warning for snow and ice in place for south-east Scotland.
The UK Health Security Agency has placed all regions of England under a level 3 cold weather alert lasting until midnight on Thursday. Dr Agostinho Sousa, a consultant at UKHSA, said the cold weather could have a serious impact on health, particularly for elderly people. Age UK has urged people to check on older neighbours and relatives.
Thursday's snow led to a 50% rise in breakdowns in the worst-affected areas, according to the RAC. Some drivers also found themselves stuck in snow in parts of South Yorkshire and Wales.
The RAC spokesperson Rod Dennis said drivers should think carefully before setting out. "These aren't conditions anyone wants to be caught out in, so those who have to drive need to be confident on potentially slippery surfaces, have ensured their vehicles are up to the task, and are carrying an emergency breakdown kit so they can stay warm and communicate easily should they get stuck or break down."
National Highways in the West Midlands advised motorists to have a winter kit in their cars - food and water, de-icer, blankets, snow shovel, warm clothes, boots, ice scraper, torch and a fully charged mobile phone plus charger.
On the M5 northbound going in to Birmingham there was heavy congestion for most of Thursday morning - not helped by the snow - after a collision in the early hours. At one point there were 3-mile queues.
The vast majority of flights from UK airports continued throughout the morning with the occasional delay. East Midlands airport closed its runway for nearly two hours late on Thursday morning because of heavy snow.
Birmingham airport "momentarily" held flights in and out at 9am while the runway was swept of snow and de-iced. It advised travellers to allow extra time for journeys and keep an eye on social media for updates.
Dozens of schools across Birmingham and the West Midlands were closed because of heavy snow and freezing temperatures with a string of others sending children home early.
Elsewhere the weather evidently put off some students from venturing out. Lisa Bradley, the deputy head of journalism studies in Sheffield, tweeted a picture of an empty lecture room, saying: "OK .... its only a bit of snow @sheffjournalism you only have to walk down the hill!!!"