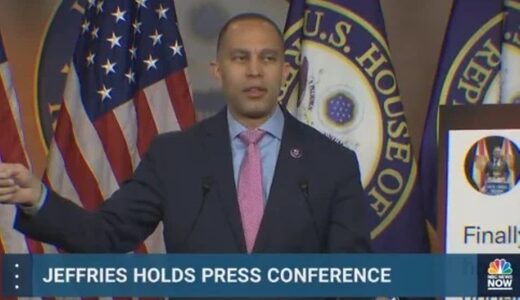 House Republicans brought forth legislation on Thursday condemning socialism and violent socialist dictators.
Democrats didn't know what to do.
Minority leader Hakeem Jeffries argued the vote against the horrors of socialism undermined the House Democrats' agenda.
Wow!
Hakeem Jeffries: They're bringing to the floor of the House of Representatives today a resolution on socialism, to condemn some dictators that we all condemn. But understand the goal of this phony, fake, and fraudulent resolution is just to somehow provide cover for extreme MAGA Republicans to try to undermine an agenda that is designed to lift up the health, safety, and well-being of the American people.
Via
Midnight Rider
.
This ties back to the old saying, "Scratch a liberal, find a fascist."
328 House members approved the legislation - INCLUDING ALL REPUBLICANS and Nancy Pelosi and Hakeem Jeffries.
86 Democrats openly opposed the legislation.
Those were the honest Democrats.
They love their communism and today they are open about it.


Jim Hoft
is the founder and editor of The Gateway Pundit, one of the top conservative news outlets in America. Jim was awarded the Reed Irvine Accuracy in Media Award in 2013 and is the proud recipient of the Breitbart Award for Excellence in Online Journalism from the Americans for Prosperity Foundation in May 2016.