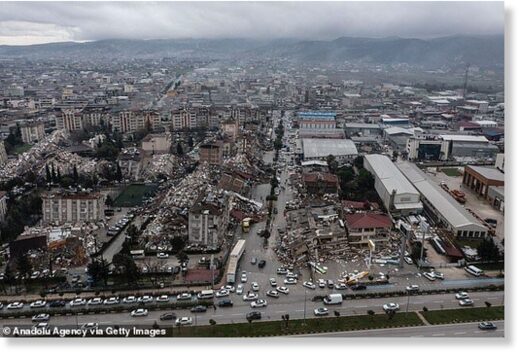 Thousands are feared dead after Turkey was hit by a second massive earthquake, just hours after an earlier catastrophic quake killed more than 1,900 people and plunged the region into an unfolding humanitarian crisis.
The initial 7.8-magnitude night-time tremor, followed hours later by a slightly smaller one, wiped out entire sections of major Turkish cities in a region filled with millions of people who have fled the civil war in Syria and other conflicts.
The later 7.5 magnitude quake struck at 1.24pm (1024 GMT) two-and-a-half miles southeast of the town of Ekinozu and around 60 miles north of the first quake that has wrought devastation across Turkey and Syria.
Hundreds are still trapped under rubble on both sides of the border
. The World Health Organisation warned that it expects to see a 'significant' increase in the death toll as the disaster unfolds, and as rescue workers continue their search through mounds of wreckage for victims crushed in their sleep.
Heartbreaking videos and pictures from dozens of cities across the two countries have shown weeping parents carrying the lifeless bodies of their children in their arms, miraculous rescues executed by emergency responders, buildings slamming to the ground in seconds, and entire neighbourhoods reduced to rubble.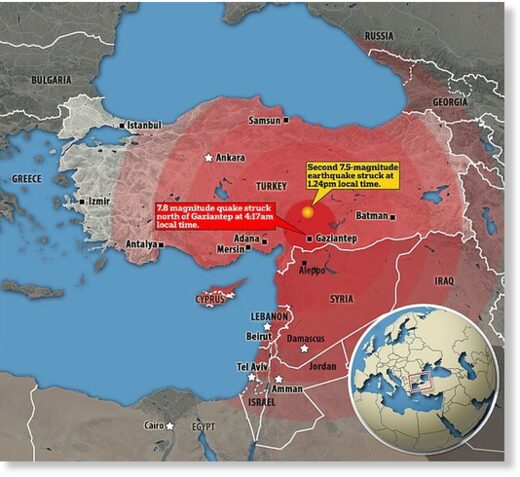 Monday morning's earlier 7.8 magnitude quake jolted residents awake. They fled from their homes in terror out into the cold, rainy and snowy night across southeast Turkey and northern Syria, taking shelter in cars as thousands of buildings collapsed.
As Monday rolled on, concerns grew for people trapped under the rubble as thousands of rescue workers across a 200-mile radius jumped into action, searching through tangles of metal and giant piles of concrete for survivors who could be heard calling out from underneath the wreckage.
Terrifying videos and pictures from across the region showed the destruction caused by the quake. One clip from the border town of Azaz, Syria, showed a rescuer desperately running through a field of debris with an injured child in his arms, while another showed the total collapse of a building in Sanliurfa, Turkey.
Monday's first quake was centred north of Gaziantep, Turkey, which is about 60 miles from the Syrian border, has a population of about 2 million, and is home to large numbers of Syrian refugees.

It struck at 04:17 am local time (0117 GMT) at a depth of about 11 miles, the US Geological Survey said. A strong 6.7 aftershock rumbled about 10 minutes later, causing more havoc. Turkey's own agency said 40 aftershocks were felt.
Buildings were reported to have collapsed as far south as Syria's cities of Aleppo and Hama to Turkey's Diyarbakir - more than 200 miles north-east.
Tremors from the quake - which lasted about a minute and could be Turkey's largest ever - were felt as far away as Greenland, the Geological Survey of Denmark and Greenland said. People also reported feeling tremors in Egypt, Lebanon and also Cyprus, while a tsunami warning was briefly issued by authorities in Italy.
Orhan Tatar, an official from the Turkish disaster agency, told reporters that the two quakes were independent of each other.
After a 3.8 magnitude earthquake struck Buffalo, New York in the United States, meteorologist Tyler Metcalf sugested on Twitter that the Turkey earthquake could have 'destabilised faults across the world.'
Turkey's Disaster and Emergency Management agency said there had been 1,121 fatalities as a result of the quake, with a further 7,600 injured, across ten Turksih provinces.
The president earlier described it as the country's largest disaster since 1939 (when 33,000 people were killed in the Erzincan earthquake).
'Everyone is putting their heart and soul into efforts, although the winter season, cold weather and the earthquake happening during the night make things more difficult,' he told reporters from Turkey's disaster coordination centre in Ankara.
'We do not know how high the casualty numbers will go as efforts to lift the debris continue in several buildings in the earthquake zone,' he said.
Meanwhile, at least 430 people have been killed and 1,284 injured in government-controlled regions of Syria,
with the victims mostly in Aleppo, Latakia, Tartus and Hama, Syrian officials said in their own update.
The White Helmets said at least a further 380 people were killed in rebel-held areas in Syria while a further 1,000 were injured.
This brings the overall reported death toll from the quake to 1,931 so far across the three regions (Turkey, government-controlled Syria and rebel-controlled Syria).
The volunteer civil defence organisation said the quake has 'resulted in hundreds of injuries, dozens of deaths, and people being stranded in the winter cold'.
'The toll may increase as many families are still trapped,' the White Helmets, which operates in rebel-controlled areas of the war-torn country, said. 'Our teams are on the ground [are] searching for survivors and removing the dead from the rubble.'
The death toll across the whole affected region is expected to climb as rescue teams work throughout Monday to find more people trapped under collapsed buildings.
It was unclear if more casualties had been caused by the second quake. The World Health Organisation (WHO) said it expected to see the toll increase 'significantly' as rescue operations continued throughout Monday.
'I think we can expect the death toll to increase significantly,' Rick Brennan, the WHO's regional emergency director for the Eastern Mediterranean, told reporters.
(More
here
)