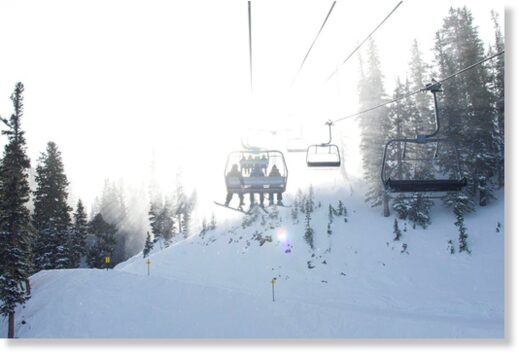 Its January 15th which is not only MLK weekend but also roughly the middle of the season for much of the North American ski resorts across the USA and Canada. We decided to take a look at the top 50 snowfalls across the continent to see who has had the most snow so far of the 22/23 season. Hint, the whole top 10 only comprises of ski resorts in Utah and California, are we really that surprised as the conditions across these two states have been all time since mid to late December.
All the snowfall numbers in this video have been taken directly from the ski resorts published numbers on their website as of 15th January 2023. A few days ago there was a report of 444" at Mammoth Mountain however this was never published to their website so we have listed them with what is showing to date.
#1 |
Alta Ski Area in Utah has seen

390"

or 991cm of fresh snow since the start of the season.
The ski area opened on the 18th of November and it's been nuking The Greatest Snow on Earth ever since. Located deep in Little Cottonwood Canyon Alta is a ski only destination that is home to 119 marked trails that is serviced by 11 lifts and offers 2,538ft of vertical.
🎥: CREDITS @altaskiarea, @chloe_jimenez
#2 | Brighton Mountain Resort can be found at the very end of Big Cottonwood Canyon and is home to not only incredible snowfalls each season but also the best night riding in Utah. Opening to the public on the 11th of November the resort has seen
367
" or 932cm of fresh snow fall across the mountain. Riders can choose from 7 lifts that service 66 marked trails which cover 1,050 acres of terrain.
🎥: CREDITS @nate.bromley, @jerricaschmerica, @a_morrisett, @kalecimperman, @bred_crumbs, @thevillagewolf
#3 |
The first Californian resort is none other than Mammoth Mountain which has been seeing incredible snowfall since opening on the 5th of November. With

367"

or 932cm of snow that's an average of 5.15 inches per day since opening. Most of this snowfall at Mammoth has happened due to the ongoing atmospheric rivers that are hammering California
but the team at Mammoth are out on then mountain every day to try and get the 25 lifts running which access 150 marked runs. Will 2023 be a recording breaking season for Mammoth, we will have to wait and see, what we do know is that the legendary spring skiing will be all time this season.
🎥: CREDITS @mammothmountain & @logan_sean, @cliffordmann, @hankweaves
#4 | Snowbird is undoubtedly one of the most famous resorts in Utah and typically has the longest season thanks to the abundance of snow which stacks high across the Wasatch Mountains. So far Snowbird has seen
366"
or 930cm of powdery goodness blanket the resort and its 171 ski and snowboard trails. Located in Cottonwood Canyon and just before Alta ski area Snowbird is home to the longest vertical drop in Utah.
🎥: CREDITS @youottofollow & @snowbird, @lstone84
#5 | Dodge Ridge might be unknown to many viewer of this video but this small California resort is tucked into the western side of the Sierra's and is getting pummelled with snow along with the rest of the resorts in California. Dodge Ridge has recorded
353
" or 897cm of fresh snow and is home to 12 lifts that take riders to 67 marked trails. Dodge Ridge is the perfect family resort or an escape from the crowds often found further north in Lake Tahoe.
🎥: CREDITS @etthereal_artist, @macgetatan, @dodgeridge
#6 | Boreal Mountain Resort, CA
🎥: CREDITS @borealmtn
#7 | Sierra at Tahoe, CA
🎥: CREDITS @jebscicluna, @sierraattahoe, @slack_media
#8 | Solitude, UT
🎥: CREDITS @solitudemountain
#9 | Palisades Tahoe, CA
🎥: CREDITS @lstone84, @rileybathurst & @palisadestahoe, @m_morgan37
#10 | Sugar Bowl, CA
🎥: CREDITS @sugarbowlresort & @hank.skinner