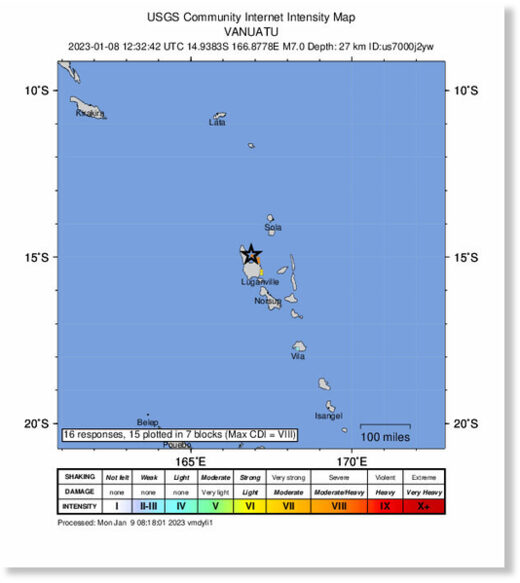 A 7.0-magnitude earthquake shook the Pacific archipelago of Vanuatu on Sunday, trigguring a tsunami warning in nearby waters.
The quake was centered 15 miles from Port Olry and hit at a depth of 17 miles at 11:32 p.m. local time, the U.S. Geological Survey said. Vanuato is about 606 nautical miles east of the Solomon Islands and 933 nautical miles from Australia.
Vanuatu has a population of 280,000 and sits on the Pacific Ring of Fire, the arc of seismic faults around the Pacific Ocean where earthquakes and volcanoes frequently occur.
The Pacific Tsunami Warning Center issued a tsunami warning for coasts within186 miles of the epicenter but it wast later withdrwan.
No initial reports of damage or casualties were reported.
In November, the Solomon Islanda was hit with a 7.0 earthquake.