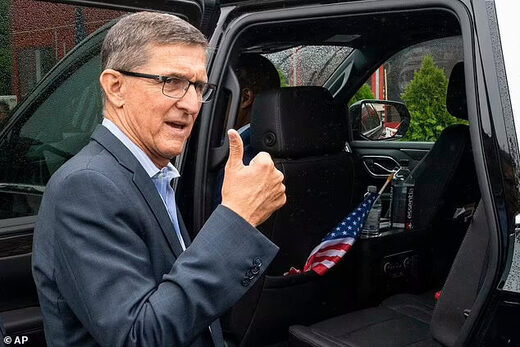 Former White House national security adviser and ardent supporter of QAnon, Michael Flynn, allegedly suggested the far-right political conspiracy theory movement is in fact a disinformation campaign orchestrated by the CIA.
Flynn publicly pledged allegiance to the right-wing conspiracy group last summer, which first originated on internet message boards.
Comment:
Did he, though? Flynn was on video with his family saying the Pledge of Allegiance and some clever editing by CNN made it look like he was pledging allegiance to Q.
See:
Michael Flynn's relatives sue CNN for $75 million over report alleging QAnon affiliation
At the end of oath, Michael Flynn uttered the phrase "Where we go one, we go all," and the entire family responded, "God Bless America." CNN edited out the pledge and the "God Bless America" exclamation and claimed the phrase uttered by President Trump's national security adviser was an "infamous QAnon slogan," the suit alleged.

In fact, Michael Flynn's phrase was drawn from an inscription first "engraved on a bell on one of President John F. Kennedy's sailboats, acknowledging the unity of mankind," the suit stated.

"General Flynn intended to encourage people to think about being good citizens, to love country and be good patriots," the lawsuit said. "The video had nothing to do with QAnon or recruiting 'digital soldiers' for an apocalyptic reckoning."
But in a telephone call that has not yet been independently verified, Flynn, a former adviser to Trump appeared to completely disavow the group as he spoke with pro-Trump election conspiracy theorist and attorney Lin Wood. The man Wood says is Flynn was even heard dismissing QAnon's claims as 'total nonsense.'
Wood recorded and posted it to his Telegram channel on Saturday.
'I think it's a disinformation campaign. I think it's a disinformation campaign that the CIA created. That's what I believe. Now, I don't know that for a fact, but that's what I think it is,' The man said to be Flynn could be heard saying on the recording.
Later in the call, the same man can be heard stating how the conspiracy movement was 'total nonsense' calling it a 'disinformation campaign created by the left'.
'I think it's a disinformation campaign. There's actually a very interesting article today out that was sent to me — I'll send it to you — about how the QAnon movement has failed and all that. But I find it total nonsense, and I think it's a disinformation campaign created by the left,' he said.
The group has previously been classified as a national security threat by the FBI.
Among their beliefs are that the government, businesses and press have been captured by a global cabal of elite, Satan-worshipping pedophiles led by top Democrats which took the form of 'deep state', which Donald Trump opposed.
Flynn, who is a retired three-star US army general at one time ran the Defense Intelligence Agency pledging allegiance to the conspiracy movement in a video posted to Twitter in July 2020.
In May, he was filmed speaking in Dallas, Texas at a QAnon conference suggesting a Myanmar-style military coup should happen in the US.
Many of those who participated in the 6 January insurrection at the US Capitol were QAnon believers including 'QAnon Shaman' Jacob Chansley who was sentenced to more than three years in jail last week.
Wood, who is right-wing lawyer and supporter of QAnon, has been on the offensive attacking Flynn and various former allies after he was disowned by his old client, Kyle Rittenhouse.
Wood and Rittenhouse most recently clashed over Wood's attempts to lay claim to the $2million in crowdfunding cash used to pay for Rittenhouse's bail.
Wood recently accused Flynn and former Trump lawyer Sidney Powell of failing to help him to overturn Trump's 2020 election result leading to a rowing and squabbling between them and others on the far-right.