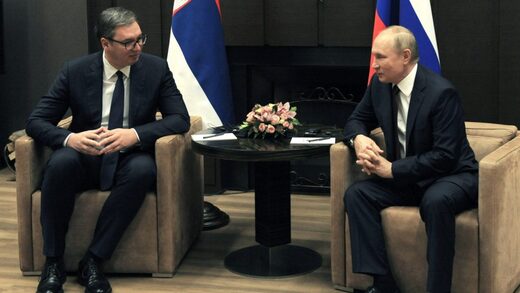 After meeting Vladimir Putin in Sochi, Aleksandar Vucic said Russia had agreed to peg Serbia's current gas price for another six months, calling it a gesture of friendship towards his country.
Serbia will continue to pay $270 per 1,000 cubic metres of natural gas for the next six months, President Aleksandar Vucic said after a meeting with Russian President Vladimir Putin.
The two presidents met in Sochi, Russia, where the
renewal of a deal about natural gas deliveries
was one of their topics. Vucic said: "Putin has shown friendship towards Serbia."
"We managed to get...
for the next six months a gas price of an incredible $270, so that our price does not change; we also got an increase in the amount of gas in those six months and we got flexibility [in monthly delivery]
, for which I especially begged President Putin," Vucic told media after the meeting, Radio Television of Serbia reported.
Serbia imports almost all of its gas from Russia's energy giant Gazprom
, with domestic production covering only roughly 15 per cent of its needs.
According to Bloomberg, in October Serbia
was paying
$270 per 1,000 cubic metres,
far less than the benchmark rate that has recently soared
.
Serbia's current deal with Gazprom, signed in March 2013, will expire on December 31.
Vucic said that he and Putin
"also talked about a long-term contract
and left certain elements, but until I sign it, I have no right to say that".
According to the
meeting's transcript
, published on the Russian president's official website, Putin told Vucic that "will come to an agreement on that; we will instruct our relevant companies to finalise this work; at any rate,
we will find a solution that will undoubtedly be acceptable to our Serbian friends.
Putin also said: "We expect Prime Minister of Serbia [Ana Brnabic] to visit Moscow in December". Vucic announced that Putin will come to Serbia "between May and September next year".