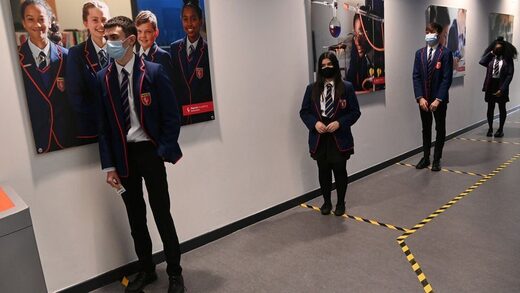 Head teachers are warning of problems getting parental consent for Covid tests, ahead of pupils returning to school in England next week.
A survey found
more than half of secondary head teachers had faced difficulties getting parental approval
.
Geoff Barton, leader of the ASCL union which carried out the survey, said parents might have heard "misinformation" about testing.
The Covid tests for pupils are voluntary and need parents' permission.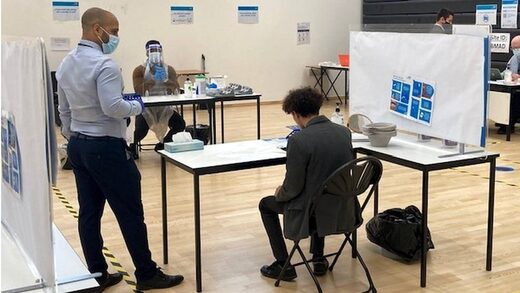 Staggered start
The survey of more than 930 head teachers also found 76% of secondary schools have planned a phased return next week, such as different year groups starting on different days, allowing time for pupils to have Covid tests.
In 7% of schools, this staggered return will stretch into a second week.
"There will be a full return but it will be from - not on - Monday, 8 March," said Mr Barton.
The head teachers' union says the biggest problem, reported by 52% of heads, has been obtaining parental consent to carry out Covid tests on pupils.
"This is most likely to be simply a matter of oversight with some parents not returning forms,"
said Mr Barton.

Comment: If that was the case - and we don't know for sure why these forms haven't been returned - then clearly the parents are not that concerned about Covid-19.


"There may also be parents who are nervous about testing because they have seen or heard misinformation," he said.

Comment: Or could it be that they have well founded concerns that are supported by science? After all, it's well known that children are unlikely to suffer from coronavirus, and, if they aren't showing any symptoms, it's also proven that they will not be shedding the virus.


Labour MP Siobhain McDonagh has raised concerns about this in the House of Commons, calling for parental consent for testing to be "opt out rather than opt in".

Comment: Meaning that the MP wants to remove the ability for parents to give consent to this totally unnecessary and highly invasive medical procedure.


She told MPs last week that in some schools up to half of pupils did not have parental consent for testing - and warned that could put other pupils at risk.
School Standards Minister Nick Gibb responded: "We expect parents to give permission to the school to allow secondary school pupils to be tested twice a week.
"This is an important initiative that helps to minimise the risk of transmission in the secondary school estate.
"After the first three tests, home-testing kits will be sent to homes with pupils, and we hope that the twice-weekly testing of pupils will continue for the foreseeable future."
The Department for Education says it does not have data on levels of parental consent for testing.
'Field hospitals'
Secondary schools will have to carry out three swab tests on pupils as they start returning from Monday - and Mr Barton
said schools had to set up testing centres that looked like "field hospitals"
.
Schools also reported difficulties in finding staff to run the Covid testing.
Pupils in secondary schools will be expected to wear face masks in classrooms, where social distancing is not possible, but few heads anticipated any "significant numbers" refusing to comply.

Comment: School children in the UK struggle to keep their shirts tucked in, one would expect that many will instinctively resist something that significantly hinders their breathing.


But there were concerns about a lack of clarity in guidance, which
recommends wearing face masks, but does not make them mandatory
.
Comment:
Either they're critical to the situation or they're not - and we know they're not. And yet we've already seen stories that schools are threatening to
enforce
mask wearing on children as young as 5 as though it's mandatory.
Mr Barton
said the government had left schools with a logistical "nightmare" to sort out testing arrangements, when it had "nothing to do with the core business of education"
.

Comment: One saving grace amidst the encroaching tyranny is the laziness and greed impeding its implementation means its enforcement is also not very efficient.


A Department for Education spokeswoman said: "Secondary schools and colleges can stagger the return of their students over the first week to help them offer rapid testing in a safe and orderly way, but all students should be back no later than Monday 15 March."